Prince successors Bilal, King, Xavier Omär and ChestnuTT discuss the Purple One's legacy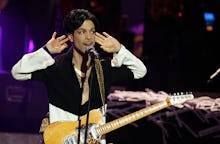 When you change music as many times as Prince did in his 57 years on Earth, you're going to leave a void when you breathe your last. The world felt it in the past year since Prince's untimely death on April 21, 2016. Fans young and old all came to realize the enormity of his genius, adding new dimensions to his legacy — from Questlove's 40-point list on why Prince was a hip-hop pioneer, to Anil Dash's breakdown of Prince's life as a computer nerd and tech pioneer — and there are likely still more to uncover. 
To celebrate the one-year anniversary of the legend's death, we sought out four of his key successors who have continued to push his boundless funk and R&B stylings into the new millennium: Bilal, King, Xavier Omär and Cody ChesnuTT. 
We asked each the same series of questions about their relationship with the Purple One, hitting on how it started, what sustained it and what are the most important aspects of his varied legacy. Their answers shed light on how inspiration ebbs and flows between generations and just how much of a difference one man with a guitar, a flawless fashion sense and a desire to see music be the best it can be can make on the lives of others.
Bilal
R&B veteran Bilal was one of the founding members of the Soulquarians collective, alongside Q-Tip, Questlove, Common and Erykah Badu. He helped the BET follow through on their promise to one-up the Billboard Music Awards' Prince tribute, after the mixed reception that Madonna and Stevie Wonder's performance received. He recently lent vocals to Common's Black America Again and Kendrick Lamar's To Pimp a Butterfly, helping both artists add some throwback soul hooks to their tracks.
Mic: How did you first come across Prince's music?
Bilal: I came across Prince's music through the movie The Color Purple. That's my aunts, my aunts was a big Prince fan, so that's kind of how I got into the Prince world. And then more and more as I became a musician that's how I started to understand what he was doing.
What's one of your favorite Prince quotes or lyrics? Would you be down to sing it real quick?
Bilal: [singing "The Ballad of Dorothy Parker" from Sign O The Times]
I ordered - "Yeah, let me get a fruit cocktail, I ain't too hungry"
That's one of my favorite songs right there. So random. His lyrics were random but very relatable and also very profound at the same time — and simple. That's one of the things I liked about Prince: how he was able to marry so many dimensions at once.
What do you think is the most overlooked or most important part of his legacy?
Bilal: The most overlooked part of his legacy, it may be be his humanitarianism. Prince did a lot of things behind the scenes, and helped a lot of people, saved a lot of people that was going into debt, was going through hard times — but he didn't like to be known for that. This cat was doing so much humanitarian giving back, he never even moved out of his hometown. He almost hired the whole town at one point. Everybody in his crew was from his city. He was just like that. I think that's one of the things: how humble of a person and giving he was.
King
Minneapolis natives, King are one of the many groups that Prince helped mentor over the course of his career. After hearing their The Story EP, Prince flew the band out to one of his shows so they could meet. He gave them precious advice — "not to change a single thing," as Paris Strother shared with Mic in a previous interview. It made all the difference when the group released their debut, Grammy-nominated full-length We Are King in 2016.
Mic: How did you come across Prince's music, and what has it meant to you over the years?
Paris Strother: Being from Minneapolis, there is really no "coming across Prince's music" — it's in the air, it's in the water, it's in our blood. It's very much the sound of our city. Being a Minnesotan and knowing him as a hometown hero is really cool, but growing up and seeing this global superstar was amazing. And then later, getting to know him as a mentor for the three was really an incredible feeling.
What's one of your favorite Prince quotes or lyrics? Would you be down to sing it real quick?
Amber Strother: My favorite Prince lyric comes from the chorus of "Money Don't Matter 2 Night":
Money don't matter tonight
If you could say or ask one last thing to Prince, what would it be?
Anita Bias: If we could say one last thing to Prince, it would be a huge thank you for his support and encouragement over the years.
AS: We love you, Prince.
Xavier Omär
Formerly known as SPZRKT, the Soulection-affiliated Xavier Omär is one of the most critically acclaimed up-and-coming artists in R&B. He's made respect and gender equality key factors of his love songs, using proceeds from his music to give back to causes like Women In Music, an organization dedicated to supporting and cultivating the talent and careers of women in the industry.
Mic: What's one of your favorite Prince quotes?
Xavier Omär: Prince once said, as a quote, that a "strong spirit transcends rules." I think that's amazing. That embodies everything that he was right there.
If you could say or ask one last thing to Prince, what would it be?
XO: I would say thank you for your originality, for being yourself, for your creativity, for lending a helping hand [to] up-and-coming artists, for not apologizing for how different you were. Because all of those things are really important and instrumental to people like me and others, speaking words of kindness to you right now.
Cody ChesnuTT
The elusive Atlanta neo-soul musician Cody ChesnuTT has ducked in and out of the limelight over the course of his 15-year-long music career. He helped the Roots put together one of their biggest singles to date, singing and playing guitar on "The Seed 2.0," he's worked as a "Death Row writer-for-hire" and appeared in Dave Chappelle's Block Party. After going on a long hiatus, he's begun gearing up to reacquaint the world with his elastic funk, releasing "Bullets in the Street and Blood," in 2016.
Mic: How did you come across Prince's music, and what has it meant to you over the years?
Cody ChesnuTT: Sixth Grade, Miss Park's class, was the first time I'd ever heard the name Prince. I heard it from a young lady who sat across from me, whom I had a crush on, by the name of Angela Smith. I can recall her having a Teen Idol magazine with Prince on the cover. And she held this magazine, she kept it on her desk and sang this song, ["I Wanna Be Your Lover"] all day long. I think that's why it's my favorite, or one of my favorite Prince tunes of all time. It's the pocket of the drums, the nuance and attitude of the rhythm guitars. It still moves me in the exact same way to this very day.
What do you think is the most important part of his legacy?
CC: For me, Prince's fearlessness, his boundlessness as an artist, his ability to express himself deeply [and] with conviction regardless of the subject matter, is his lasting impression, his lasting impact on how I approach creativity. I truly believe he's an institution, a strong school of thought. If you're going to do this, you've got to come through the school of Prince Rogers Nelson.
Mic has ongoing music coverage. Follow our main music hub here.