Nancy Pelosi says it's possible to be an anti-abortion rights Democrat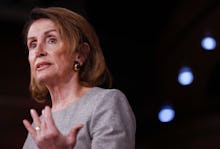 Nancy Pelosi has just become many progressives' new problematic fave.
On Sunday morning's Meet the Press, the House Minority Leader told host Chuck Todd "of course" someone who identifies as "pro-life" could be considered a Democrat.
"I have served many years in Congress with members who have not shared my very positive — what my family would say — aggressive position on promoting a woman's right to choose," Pelosi said. 
Pelosi's remarks were in response to Todd's prodding about Heath Mello, a Democratic mayoral candidate in Omaha, Nebraska, with a history of supporting anti-abortion legislation. Mello has since revised his stance on abortion rights to align with the Democratic party's, but the candidate's track record on the issue garnered attention when Sen. Bernie Sanders endorsed Mello in spite of it. 
Amid backlash over his support, Sanders defended his endorsement of the mayoral candidate in a Thursday interview with NPR.
"If we are going to protect a woman's right to choose, at the end of the day we're going to need Democratic control over the House and the Senate, and state governments all over this nation," Sanders told the outlet. "And we have got to appreciate where people come from, and do our best to fight for the pro-choice agenda. But I think you just can't exclude people who disagree with us on one issue."
Pelosi seemed to arrive at a similar conclusion on Sunday when Todd asked her about "unifying" the Democratic party.
"Our values unify us," Pelosi said. "We are unified with our commitment to America's working families; about job creation; about budget policies that invest in the future; good paying jobs."
Pelosi and Sanders' hemming and hawing about how stringent the party will be about its candidates supporting abortion rights has made some people wonder if Democrats will all but abandon women's rights just to win some seats.
In a piece for the Cut, contributor Rebecca Traister wrote that prominent Democrats' willingness to compromise on reproductive choice flies in the face of the pervasive "resistance is female" ethos.
"The dynamic — the women doing the labor of organizing and protesting and campaigning, knocking on doors and making calls and sending postcards, while guys speak from the microphones about the need to compromise on their rights — is depressingly retro," she wrote.