'Zelda: Breath of the Wild' 2-D NES game download sees updated graphics, improved physics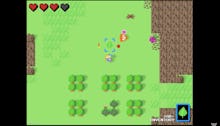 WinterDrakeDev brought us a simplified version of Zelda: Breath of the Wild earlier this month with Breath of the NES. A game as expansive as Legend of Zelda: Breath of the Wild deserves to be experienced in three dimensions. But playing a game like Zelda: Breath of the Wild in 2-D instead is straight up funny. The game maker has continued to put in work and now brings us version 1.3. 
Zelda: Breath of the Wild NES remake: What to expect in the latest version of the 8-bit game
The newest version of Breath of the NES brings gamers "better" graphics while still maintaining the 8-bit art. Also included in the update is an improvement to the physics engine. In addition to being able to use wind from the Korok Leaf and spread flames, you're now able to roll logs and damage enemies.
The update also brings a day and night cycle, similar to Breath of the Wild and the quick switching of items without needing to enter the pause menu. Check out the video below for gameplay and head to the YouTube page download links.
Check out more Zelda: Breath of the Wild news and coverage
Find out all there is to know about Zelda: Breath of the Wild, including our running list of all the people of color in Hyrule. Learn how to preserve your items, how to beat bosses like the Stone Talus and Lynel, the best recipes for Link and how to take on the game's shrines. If you're looking to snag a giant horse with little stamina, here's how to do it. You'll also want to find out where all the great fairies are in the game, how to use amiibo with your version of Zelda and what went into making Breath of the Wild.