Serena Williams shares message with her baby, "the world's youngest No. 1," on Instagram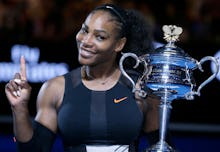 Serena Williams, mom-to-be and one of the greatest athletes of all time, shared a nice message to her future child Monday on Instagram, in which she generously offered to "share being No. 1 in the world" with said baby. Williams' fiancé, Reddit cofounder Alexis Ohanian, also got a shout-out. 
You gave me the strength I didn't know I had. You taught me the true meaning of serenity and peace. I can't wait to meet you. I can't wait for you to join the players' box next year. But most importantly, I am so happy to share being No. 1 in the world with you ... once again today. On @alexisohanian bday. [Winking-face emoji] from the world's oldest No. 1 to the world's youngest No. 1. 
The World Tennis Association confirmed Williams, who announced her pregnancy Wednesday on Snapchat, as its No. 1 player for the 317th week on Monday morning. 
Williams, who continually blasts sexist and racial stereotypes, is more or less guaranteed to be a cool mom. "The world's youngest No. 1" is one lucky kid.