iPhone 8's "severe supply shortages" mean you may not get your hands on one right away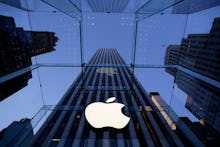 When news broke that Apple's 10-year anniversary smartphone, dubbed the iPhone 8, would not be launching with the iPhone 7S, it was nothing but a rumor. But since then, there's been more merit to the claims. Most recently, KGI Securities analyst Ming-Chi Kuo released a report suggesting Apple will release the premium device in September but the iPhone will face "severe supply shortages" for some time.
Initial reports from Chinese-language Economic Daily News said the iPhone 8 is suffering from "technical issues." According to Forbes, the public sale of the high-end device could be pushed back to the end of November 2017. Last week, Bloomberg reported that the iPhone 8 could be delayed by "one or two months."
Economic Daily News reported Apple was struggling with "the lamination process of curved OLED panels." The premium 5.8-inch handset is said to have a sensor behind the edge-to-edge bezel-less OLED display, and Apple is having issues incorporating the fingerprint sensor within the display.
"First off, our smartphone contact believes the 3-D sensing technology and OLED displays will only be offered with the 5.8-inch iPhone 8," Brian White, a Drexel Hamilton analyst, told CNBC. "However, our contact strongly believes the 5.8-inch iPhone will be delayed by several weeks due to challenges around the 3-D sensing technology but still in time for the December holidays."
One rumor surrounding the delay and the possible solution was shared on Twitter last week by Sonny Dickson. If true, the tweet shows a drawing of the device with the Touch ID fingerprint scanner on the back of the phone, similar the newly released Samsung Galaxy S8.
Benjamin Geskin, 9to5Mac reports, created a dummy mockup of the iPhone 8 based on existing rumors. The images show a glass and stainless steel device with no bezels and an edge-to-edge display. A Touch ID is neither visible on the front of the device nor on the back of it.