100 Days of Sean Spicer: The White House press secretary's greatest hits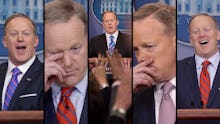 Update: July 21, 12:21 p.m.: On Friday, Sean Spicer announced his resignation as President Donald Trump's press secretary, reportedly in response to New York financier and Trump backer Anthony Scaramucci being named the new White House communications director. In April, on the occasion of Trump's 100th day in office, Mic compiled a list of Spicer's most noteworthy moments since the president was sworn in on Jan. 20. That article is published in full below:
White House press secretary Sean Spicer has become one of the most recognizable figures in President Donald Trump's administration, setting out almost every day to publicly defend Trump's behavior and policies.
But his newfound celebrity isn't because he's done an amazing job.
Instead, what's made him a household name is the brash tone that's often gotten him in trouble as he seeks to brush off the controversy of Trump's White House. It's even turned him into a running joke on Saturday Night Live.
In fact, his tone and penchant to attack when faced with tough questions has made him unpopular in the eyes of Americans, with 49% viewing him unfavorably, according to a Quinnipiac poll released April 4.
Still, Spicer's job is secure, with the ratings-obsessed Trump telling the Washington Post he's not firing Spicer because "that guy gets great ratings."
"Everyone tunes in," Trump told the Post.
Here's what those who have tuned in to watch Spicer have seen:
Inauguration crowds
Spicer's tenure as press secretary got off to a rocky start when he held an impromptu briefing to falsely claim Trump's inauguration crowds were the largest in history.
"This was the largest audience to ever witness an inauguration, period," Spicer told reporters as he lectured them about their coverage on Trump's crowd sizes.
Of course, Trump's inauguration crowd was smaller than many of his predecessors, and conservative commentators like Bill Kristol called Spicer's briefing "embarrassing."  
Frederick Douglass
When Trump appeared to not realize abolitionist Frederick Douglass is long dead, Spicer was asked to clarify Trump's statement.
In the process, Spicer also appeared to have the same knowledge gap as his boss, failing to recognize that not only is Douglass deceased, he's been that way for well over a century.
"Well I think there was contributions," Spicer responded when asked to clarify Trump's statements on Douglass. "I think he wants to highlight the contributions that he has made and I think that through a lot of the actions and statements that he is going to make, I think that the contributions of Frederick Douglass will become more and more."
Oof.
The flag pin
On March 10, Spicer committed a fashion faux pas, emerging for his on-camera briefing with the flag pin on his lapel upside down. 
According to the federal code, an American flag should never be displayed upside down unless as "a signal of dire distress in instances of extreme danger to life or property." Naturally, this prompted jokes that perhaps Spicer was signaling for help.
Once the mistake was pointed out to him, Spicer immediately turned the pin right-side up.
Wiretapping claims
After Trump tweeted March 4 that former President Barack Obama had wiretapped Trump Tower during the campaign, Spicer was forced to defend Trump's claim — which has since been debunked.
Spicer's defense quickly went off the rails, as he resorted to reading damning stories about an FBI investigation into the Trump campaign's alleged ties to Russia to prove the phony wiretapping claim was true.
Spicer's decision to read those stories was even more baffling, considering Trump's claim had already been proven false.
Sean Spicer vs. April Ryan
In yet another testy exchange, Spicer scolded Ryan for shaking her head during a press briefing. He made his comment after Ryan pressed Spicer on the investigation into the Trump campaign's alleged Russian connections.
Spicer's patronizing treatment of reporters has been widely mocked, including in a viral Daily Show with Trevor Noah segment that reimagined Spencer yelling at kids in the White House briefing room.
The Holocaust doozy
Perhaps the most egregious of Spicer's stumbles — and one he actually apologized for — was when he suggested Adolf Hitler didn't use chemical weapons during the Holocaust.
"You had someone as despicable as Hitler who didn't even sink to using chemical weapons," Spicer said while answering a question about Trump's military strike in Syria. "So you have to, if you're Russia, ask yourself if this is a country and a regime that you want to align yourself with." 
Of course, Hitler did use chemical weapons, putting Jews and other political adversaries in gas chambers at concentration camps. When reminded of that fact, Spicer's comments grew even more cringeworthy, when he called concentration camps "Holocaust centers."
Spicer went on to apologize for his remarks, revising the apology multiple times before getting it right. "I realized that I had made a mistake, and I did not want to be a distraction to the president's agenda," Spicer said.