'Overwatch' LC-202 Error Message Fix: What to do when your PS4 or Xbox One won't connect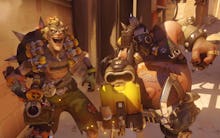 Are you getting the Overwatch LC-202 error message? You're not alone. Here's what's going on: Overwatch error message LC-202 is one of the many codes displayed when your console or PC is having difficulty connecting to the Overwatch servers. PlayStation 4 owners are most frequently affected by error code LC-202, but Xbox One gamers can be struck with it as well. 
If you're having issues with LC-202 when trying to play Overwatch, you can follow the steps below to help diagnose and fix the problem.
Overwatch LC-202 error message fix: How to fix connection problems
Upon receiving an error code LC-202 in Overwatch, there are a few steps you can follow that can help solve your issue, according to Metabomb. The instructions below aren't a guaranteed fix, but if the connection problem is on your end, they're the best way to make sure you've done everything you can to solve the issue.
1. Run a connection test
In the network menu of your console, you'll find an option to run a connection test. This test should automatically detect obvious problems that could be preventing you from connecting in Overwatch — like making sure your console has an active internet connection.
2. Use Blizzard's Looking Glass tool to test your connection to Blizzard servers
Blizzard has hosted a tool for console owners to detect whether or not they're able to open a connection to its game servers. Once you've determined you have an active internet connection, open your console's browser and head to the URL of Blizzard's Looking Glass Tool. Once loaded, the tool will test whether your console is connecting to the Blizzard game servers directly.
3. Use a wired connection
Sometimes using Wi-Fi when trying to connect and play an online game can introduce latency or instability that can cause issues. If you find that you regularly have high ping and connection drops, try using a wired connection. This should make your console's internet connection more stable and help diagnose whether or not your Wi-Fi signal is an issue.
4. Reset your network devices
Sometimes the only thing that will solve network ails is a settings reset. If none of the above work, you can try to reset your router and the network settings on your PlayStation 4 or Xbox One.
5. Wait it out
If you've tried all of the above, and you still can't connect to the Overwatch servers, more than likely the issue is on Blizzard's end. If that's the case, you can only wait it out. Blizzard is usually quick about fixing server issues, and you can keep an eye on its customer-support Twitter for the latest news about server outages.
More Overwatch news and updates
For more on Overwatch, check out the rest of what Mic has to offer. Here is a full explanation of the different types of health in Overwatch, the latest rumor of a Terry Crews-voiced Overwatch character, an update on that Mei ice wall exploit, a hilarious video of a play of the game involving the jump pad on Oasis, a roundup of the best Overwatch plays of the week, our definitive ranking of every Overwatch hero and a giant Overwatch FAQ for beginners.