Tony Kim: What to know about the US citizen detained in North Korea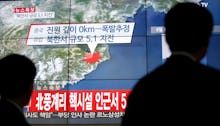 As tensions between the United States and North Korea continue to mount, a U.S. citizen was detained at Pyongyang International Airport on Saturday morning for "unknown reasons," CNN reported. 
Kim Sang Duk, who also goes by the name Tony Kim, had completed "several weeks of service" teaching at Pyongyang University of Science and Technology, the school said in a statement.
"We understand this detention is related to an investigation into matters not connected in any way with the work of PUST," the statement read. "We cannot comment on anything that Mr. Kim may be alleged to have done that is not related to his teaching work on the PUST campus."
The statement also said campus life is "continuing as normal" at PUST moving forward.
Kim makes the third U.S. citizen currently being held in North Korea. In 2016, University of Virginia student Otto Warmbier was, like Kim, detained at Pyongyang International Airport. He was later charged with committing a "hostile act against the state" for attempting to sneak a military banner home in his suitcase, and is currently serving a 15-year sentence of hard labor.
In 2015, Kim Dong Chul was arrested on charges of espionage and later sentenced to 10 years of hard labor.
While the White House has yet to comment publicly on the allegation, the United States and North Korea have engaged in escalating "saber-rattling" in the region as of late. After an uptick in missile tests by the government of North Korean dictator Kim Jong-un, Washington opted to dispatch the USS Carl Vinson aircraft carrier to the region as a show of military strength. Seemingly undeterred, the country proudly displayed its new missile systems during a military parade commemorating the birth of the nation's founder, Kim Il Sung, on Saturday.