Why Rosario Dawson won't be in Netflix's 'The Punisher'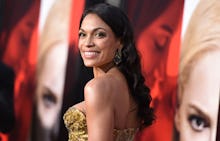 Rosario Dawson fans might not be too pleased with this recent news about the forthcoming new Marvel series on Netflix. Though Dawson's Claire Temple character pops up in several previous (and upcoming) television adaptations of Marvel comics — including Daredevil, Luke Cage and The Defenders — it looks as though she will not have an appearance in The Punisher.
For those not as familiar with the tight-knit Marvel universe, Temple is a nurse who's been known to give medical attention to various vigilantes in need. Though she has romantic involvement with Matt Murdoch, aka Daredevil, in Daredevil and Luke Cage in Luke Cage, Dawson doesn't define Temple as just a love interest. 
"My character is a stand-in for the audience," she told Time Magazine in reference to Daredevil. "She's not a love interest — she's this skeptical eye looking at this strange situation."
So since Temple's such a Marvel linchpin, why won't she appear in The Punisher? The same reason as every star who's done a Marvel adaption and opted out of all the spin-off series and movies that follow: scheduling conflicts.
"For The Defenders, it was difficult to get everybody together," Dawson said in an interview with Collider. "People are busy! There are so many times where I really want it to happen. I really wanted to do a cameo on The Punisher, but it doesn't always work that way."
While The Punisher will be missing several characters from its predecessor The Defenders, it will feature Jon Bernthal as Frank Castle and Deborah Ann Woll as Karen Page, who both also appear in Daredevil and The Defenders. So there is still some degree of series crossover, just not a huge amount. 
Filming wrapped on The Punisher in early April. As of yet, there's no premiere date set, but knowledgeable sources like A.V. Club believe a premiere announcement is imminent. And for those who miss Rosario Dawson, she'll definitely appear in The Defenders, which premieres in August. 
Mic has ongoing Marvel coverage. Read more at our Marvel hub here.