12 Trump tweets that have aged the worst in his first 100 days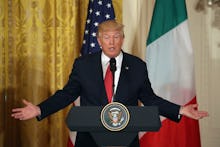 President Donald Trump's Twitter presence has been a stark reality stretching back far beyond his 100 days in office. 
And while Trump the president has been known to tweet out some doozies, he's also been plagued by tweets he sent during his bygone days as Trump the citizen. 
One hundred days into his term, it's not uncommon to find Trump doing many of the things he once blasted President Barack Obama for on the social media platform, from spending time on the golf course to signing executive orders.
Here's a list of Trump tweets that have not aged well now that he's commander in chief.
Executive orders
With zero policy wins under his belt, Trump administration officials have pointed to Trump's executive orders as proof he's delivering on the promises he made for his first 100 days in office.
Yet in 2012, Trump tweeted an attack on Obama's use of executive orders, calling them "major power grabs of authority."
Then, in 2013, Trump ominously tweeted "this is how it starts" when Obama was debating using executive orders to curb gun violence.
Now, 100 days into his term, Trump's executive orders are some of the only tangible achievements his administration has had. And so, executive orders that were once bad politics are now, apparently, proof of success.
Bombing Syria
On April 6, Trump launched more than 50 tomahawk missiles at an airbase in Syria. U.S. military officials believed the airbase was the launch site of a chemical weapons attack Syrian President Bashar Assad carried out on his own people.
Trump launched the attack without consulting or receiving approval from Congress. And while that's technically legal, it directly contradicts numerous Trump tweets in which he urged Obama not to launch a strike on Syria without congressional approval.
In fact, Trump sent more than 40 tweets that either demanded Obama seek approval for a Syrian strike or focus his attentions on domestic issues instead.
Taxpayer-funded vacations
In August 2014, Trump bashed Obama on numerous occasions for going on taxpayer-funded vacations.
"The Obama's [sic] Spain vacation cost taxpayers over $476K," Trump tweeted in April 2012, one of multiple tweets attacking Obama's vacations. "They love to spend money."
Trump, meanwhile, has famously spent 25 days at his Mar-a-Lago resort in Palm Beach, Florida, according to the New York Times — amounting to a quarter of his time in office. 
Politico estimates that each trip costs taxpayers roughly $3 million. Trump has made the trip to the so-called "Winter White House" seven times so far, racking up an estimated $21 million on the trips.
The numbers put Trump on pace to surpass Obama's entire eight-year travel budget in Trump's first year in office.
Bill O'Reilly
Fox News host Bill O'Reilly was fired April 19 after damaging reports surfaced that he had sexually harassed multiple women.
O'Reilly's alleged sexual harassment cost his network $13 million in settlement payments, and ultimately ended his long-running show on Fox News.
Trump, however, has been an O'Reilly defender, as evidenced in a tweet from last April in which he questioned why the "liberal media" thought O'Reilly was "a complete and total vulgarian."
"I don't think so!" Trump tweeted.
Transparency
On April 14, Trump announced that his administration won't release a list of those who visit the White House — a reversal of Obama's policy to make those visitor logs public.
The decision flies in the face of government transparency, and defies Trump's past thoughts on transparency when Obama was president. In 2012, he twice criticized Obama for not being transparent, accusing him in tweets of "spending millions to try and hide his records."
Trump went so far as to question whether Obama was "hiding something" for choosing not to "comply with record releases that his predecessors did of their own volition."
Trump's tweets open himself up to the same question: What's he hiding by keeping those logs private?
Golfing
Trump attacked Obama for golfing throughout his years in the White House.
Yet in just 100 days, Trump has hit the links 19 times, according to the New York Times. Neither Obama nor former President George W. Bush golfed in their first 100 days. Former President Bill Clinton golfed three times in the same time period.
Security clearance for Ivanka Trump
On Nov. 16, just days after he was elected, Trump denied that he was seeking security clearance for his children and, in typical fashion, blasted the media for "false" reporting.
In March, Trump's elder daughter Ivanka Trump received a security clearance to be a staffer in the White House. 
The Electoral College
Trump has the Electoral College to thank for why he's currently inhabiting the White House. It helped launch him to victory, despite the fact that he lost the popular vote by nearly 3 million votes.
And while he's cheering the Electoral College now, it wasn't long ago when he denounced the entire system as "a disaster for democracy."
Many Democrats feel the same way now.
Approval rating
Trump sent out two tweets during Obama's presidency ragging on Obama for his approval rating. "Obama has a record low 39% Gallup approval rating," Trump tweeted in 2011. "Why so high?"
In 2013, Trump again tweeted that Obama's approval rating was at "an all-time low" at 38%.
Unfortunately for Trump, he's hit both of those milestones less than 100 days into his tenure. In fact, Trump's approval has fallen lower than Obama's ever did throughout his eight-year presidency. 
Oof.