Rejected by his mother for wearing makeup, this teen is determined to live his truth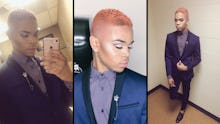 Days after his mother nearly disowned him after discovering he wore makeup, 18-year-old Jauan Durbin is being met with a wave of support online.
On Saturday, the Morehouse College freshman tweeted out a screenshot of a text conversation he had with his mother.
"I do not approve of this bullshyt," his mother wrote, referencing a photo of her son, with his face fully made-up. "[What the hell] is wrong with you? I am so disappointed. You are a male. [Why the hell] do you have on eyelashes, eyebrows and makeup."
"I'm completely done," she concluded. "OK," he responded.
He captioned the tweet: "This hurts. It really does. But I'm going to live my truth until the day I die."
The post immediately went viral, racking up over 5,000 retweets and 14,000 favorites in the days since it was first posted. The response has been mixed.
There was praise...
support...
disapproval...
and ridicule:
The photos were first taken backstage the Miss Maroon and White 2017 Pageant, where Durbin was assisting. His friend had offered to do Durbin's makeup in addition to the contestants. In an interview, Durbin said he had never had his makeup done in this way. "I'm a model, but I had never worn a full face with lashes, it's only been minimal to be camera-ready," he said.
Happy with the results, Durbin first posted the picture on Twitter. His scholarship program mentor then put the photo on Facebook, tagging Durbin. Shortly thereafter someone took a screenshot of the picture and sent it to his mother. That's when the text conversation began.
Durbin said he posted the conversation to let others struggling with parental acceptance know they're not alone. 
"I didn't post the original screenshot to put my mom out there, it was more so that I knew there were other people out there going through the same situation that I'm going through and many don't know if there's a way out of it," he said. "So I wanted to affirm them with my comments attached to the screenshot. That you should always live in your truth no matter if your parents don't agree with it. You seek validation from your parents, you try to live up to their expectations, but sometimes their expectations are unrealistic."
Since his mother first discovered the viral tweet, he and his mother, who he's described as having a rigid sense of gender norms, have not communicated.
Durbin has words for those who feel he should have kept this a private matter: "First of all, you're not in my shoes," he said. "I'm sorry that you feel that way but I've empowered way more people through my actions of posting that."
He's not being hyperbolic. According to Durbin, he has over 200 messages piling up on Twitter of strangers thanking him for being strong, not only for himself, but for them.
The outpouring of support, he said, is like a "low-key band-aid" on what he describes as metaphorical "cuts and bruises" from the harsher words some have lobbed at him.
Durbin also has a message for the parents of any young adult who may not adhere to society's exacting gender norms. "It's not about support. It's about affirmation. Loving your child because it's your child regardless of the circumstances. I would encourage the parents to sit down with their child and ask questions. Even if you don't necessarily agree with them wearing makeup, just know that something that makes them happy should make you happy."
As for his relationship with his own mother, Durbin is hopeful. "I believe that my mom will come around eventually. I feel like a conversation will probably be facilitated between some family member between her and I. I didn't do this to upset my mom. Throughout the whole process I've tried to take myself out of the process figuratively because there's people that see themselves in me and I want the message to go out to children that it's okay to be you and you shouldn't change who you are for anyone."