Introducing "Athletes United": Sports stars enter the fight against sexual assault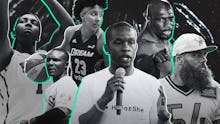 "All of us have a personal connection to the issue of sexual assault, whether we know it or not," says DeAndre Levy, former linebacker for the Detroit Lions. For Levy, the connection is his wife, Desiré Vincent, herself a survivor. 
"Survivors can't do it alone," Vincent says. "We need people to stand with us, and then also to normalize this conversation." 
To honor Sexual Assault Awareness Month, Mic launched "Athletes United" in partnership with Levy and Vincent. The participating athletes are part of Athletes for Impact, which connects professional athletes to social justice causes. Collectively, these athletes are working to raise awareness of sexual assault, show support for survivors and challenge a sports culture where sexual abuse is pervasive.
"Athletes United" features WWE superstar Titus O'Neil, NFL free agent DeAndre Levy, WNBA center/forward Elizabeth Williams, WNBA guard Layshia Clarendon, former NFL cornerback Wade Davis and former MLB second baseman Orlando Hudson.
Here are their stories:
Titus O'Neil, WWE superstar
"I'm very passionate about making sure that the same thing that happened to my mother doesn't happen to other women or young men around the world," O'Neil says. In the video, he explains that he was conceived after his mother was raped as an 11-year-old. 
Layshia Clarendon, guard for the Atlanta Dream
In an essay for Mic, Clarendon explains the challenge of reconciling with a past mired in personal shame: "I want to share my story now because too many of us suffer in silence," she writes. "For me, it was the shame around being someone that this happened to. I didn't want to be 'that girl.' It felt counter to everything I valued about myself: strong, independent and smart."
DeAndre Levy, an NFL free agent and former Detroit Lions linebacker
Levy launched the "Our Issue" fundraising campaign to advocate for sexual assault survivors in Detroit. So far, he has raised over $30,000 for the city of Detroit to process unexamined rape kits.
He is driven to act in part by Vincent, who is a survivor of sexual assault. "It happens, and it happens very often," Vincent says. "Not just to women — to boys, to trans people." 
Elizabeth Williams, center/forward for the Atlanta Dream
Williams and Levy describe how sports culture and rape culture can be linked. As Williams explains, sexual assault within athletics is complicated because of the stronghold so many star players have in their schools and communities.
Wade Davis, former NFL cornerback
Davis joins Clarendon and Hudson to urge fellow athletes to speak out about sexual assault. "We can't be quiet about any of this," Hudson says.
April 27, 2017, 11:26 a.m.: This story has been updated.