Here's why the 2017 Met Gala will be political — whether it wants to be or not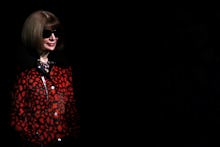 With the designs Comme des Garçons's of Rei Kawakubo as the theme of the 2017 Met Gala, you'd think that the clothes would take center stage. After all, the designer is known for elaborate, massive, inventive and outstanding designs, with fashion shows often looking like museum exhibitions all their own. 
But this year that might not be the case. That's because this year, with the political climate as unavoidable as it is, even the Met Gala has inadvertently turned itself into a bit of a political showdown. 
Firstly, there's the fact that Katy Perry, one of Hillary Clinton's loudest and proudest defenders, and Tom Brady, one of President Donald Trump's loudest and proudest defenders, are co-hosts and co-chairs, respectively, of this year's Met Gala, likely sitting at the same table and getting photographed together. 
Then things are further complicated by the fact that Brady's wife, model Gisele Bündchen, who's also a co-chair for the event, has obviously appeared to not be a Trump fan, posting things like pro-immigration statements on social media, signaling that she and her husband do not have similar political stances.
But even if neither Perry nor Brady nor Bündchen talk obviously about politics on the red carpet or elsewhere that night, there could be a swell of political energy on that red carpet. 
That's because so many celebrities are now using highly-publicized events — like red carpets — to show their support of organizations that remain at odds with Trump, like the American Civil Liberties Union, which celebrities openly supported at the Oscars by wearing blue ribbons, or Planned Parenthood, which celebrities have also openly supported by wearing a tiny gold pin. 
There's also the fact that the fashion industry has been one of the most outspoken about the current administration, with a flock of designers, like Tom Ford and Michael Kors and Derek Lam, offering their opinions on dressing the Trumps. 
Chances are, lots of people on this list of designers who have spoken out — either way — will be there, mingling and chatting away, perhaps eager to make a sartorial statement on a platform as analyzed as this one.
So even at the Met Gala, where fashion and art is supposed to be the focus, Trump talk could end up being unavoidable.