Here's who to watch on the red carpet at this year's Met Gala, from Kim K to Janelle Monae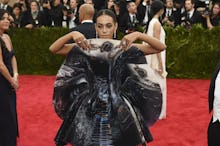 There have been many iconic fashion moments on the Met Gala red carpet. Like that time Rihanna showed up in a yellow coat of jewels and fur and won the night. Or that time Kim Kardashian West and Kanye West showed up in matching silver, sparkly ensembles. And also that time Kardashian West showed up in a body-hugging floral number that immediately turned her into a meme. And that time Beyoncé showed up nearly nude, covered in crystals. 
So many iconic moments, just one red carpet. And this year, with the gala honoring the opening of the Met exhibit "Rei Kawakubo/Comme des Garçons," which will focus on Kawakubo's work with her eccentric and innovative label Comme des Garçons, we're due for a few iconic moments more. 
Here's who you should be watching, and why: 
Ruth Negga
If Ruth Negga shows up to the Met Gala this year, it will be her first. But even still, we're practically begging her to. 
That's because, as Mic has written about before, she is one of the most interesting, eclectic and fabulous dressers in Hollywood, showing up to red carpets events in unlikely — but still stunning — outfits, like this one from the Golden Globes and this one from the Oscars. 
Undoubtedly, her and Kawakubo's CDG would make a perfect pair, with a certain fearlessness to each of them. 
Solange 
Solange has already made a name for herself at the Met Gala. Between the outstanding dresses and an elevator altercation, she's a veteran. But that doesn't mean she's getting less talented at dressing exactly correct for an event like Met Gala. 
Especially recently, Solange has found a style all her own, wearing outfits that are essentially art, like that yellow, pleated number at the 2016 Met Gala and the holographic, sculptural number for the 2015 red carpet. Wearing CDG, she could be unstoppable. 
Katy Perry 
Katy Perry's previous Met Gala looks have been, well, intense. Last year, she showed up looking like a cross between a biker chic and a pirate. And in 2015, she showed up in a dress covered in graffiti. 
So this year, with Perry co-hosting the event, she is most certainly going to be wearing CDG, which means she's going to look outrageous. No doubt about it. For a little preview of what we're talking about, check out her spread in the latest Vogue. 
Kim Kardashian West (and maybe Kanye West) 
Obviously, right? Kim Kardashian West and Kanye West, with their knack for making headlines and affinity for matching fashion, are always ones to keep an eye on at an event like this. Will they match? Will they be partially (or fully nude)? Will they come together at all?
Guess we'll have to wait and see... 
Janelle Monáe 
How do you even describe Janelle Monáe's fashion right now? Inspiring? Out-of-this-world? Original? Stunning? Unstoppable?
Time after time, she shows up and brings the internet to a halt. Just one example: This outfit at the Oscars this year, which looked as if Cinderella was shot into space and came back down covered in stars. 
We expect big things from Ms. Monáe at this one. 
Lady Gaga 
Lady Gaga and Rei Kawakubo's Comme des Garçons go way back. After she was fat-shamed in 2012, she purposely wore one of Kawakubo's most gigantic designs. And in 2013, she wore one of Kawakubo's most massive suits too, that time to the Fashion Media Awards in New York. 
So not only do we feel like Gaga is set to show up and turn heads, something she's done for the past few years now, but she has the opportunity to show everyone how to really pull of Kawakubo's understandably overwhelming designs. 
Beyoncé
So, there's already been talk about Beyoncé not being able to attend this year's gala because of her pregnancy. But if there's one thing we've learned in the past, say, year, it's that no one should ever underestimate Beyoncé. 
So, here's hoping she does show up, because for her past five Met Gala appearances in particular, she has shut the red carpet down in custom Givenchy pieces that we still regularly think about today. 
Rihanna
How could we even think to compile this list without Rihanna? Blasphemy. 
Rihanna has, in truth, elevated this red carpet to an entirely different level with just one dress, which was really more like a very grand coat and a tiny minidress. Although she's attended the Met Gala just five times throughout her career, she's made every time count. 
If she decides to attend this year, we expect much of the same.