'Better Call Saul' season 3 sets up Mike and Gus' 'Breaking Bad' relationship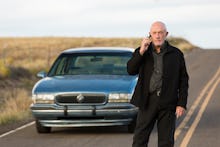 You wouldn't mistake Mike Ehrmantraut for an upstanding citizen in Better Call Saul, but at the same time, he's certainly not aligned with the man we meet in Breaking Bad. Obviously, one of the biggest reasons for that is the Mike we're introduced to in Better Call Saul isn't yet working under the drug kingpin (and Los Pollos Hermanos owner) Gus Fring. 
That's finally changing in the third episode of season 3, "Sunk Costs," which sees the first face-to-face between the two characters after a lengthy, convoluted game of cat and mouse (mostly involving a gas cap) to start the season. As the previous episode left off, we see Mike answer a flip phone left in the middle of the road. Fring's on the other end, hoping to have a conversation where no guns are drawn. 
The Mike-Gus showdown is an interesting one. They're both testing the waters as two very different people with a similar goal: Take down Hector Salamanca. Mike's solution — evidenced by season 2's finale — is more immediate: Assassinate him. Fring, however, wants the play the long game for reasons unknown to Mike (Breaking Bad fans will know why, since Hector killed Fring's business partner and presumed lover). Fring offers an interesting analysis of Mike's motivations, which has been a recurring theme in the stories of Saul Goodman and Walter White. It's mostly driven by male ego, rather than rationality. 
"You had let it go," Fring tells him. "You'd taken his money. Your family was no longer in danger, and yet still you robbed his truck. Shouldn't that have settled the matter? Most men would've walked away." 
Most men, yes, but not the ones in the Breaking Bad universe, constantly driven by the idea of not living up to their own masculinity — like Walter White not allowing other people to pay for his cancer treatment and descending into the power-hungry Heisenberg, or here, Mike not willing to let Hector's threats to his family slide even after getting a shitload of money. This is to Fring's advantage, however, as he now has a new enforcer who's already proving his worth. 
Mike achieves this in episode 3 by screwing over Hector's illegal border operation — naturally, in a very elaborate (and perhaps unnecessarily complicated) sequence of events. It starts with Mike going across the border and getting a small amount of cocaine from a local doctor. He then stuffs the pouch of cocaine into a sneaker, which he ties with another one and throws the pair onto a cable tower on a rural patch of desert. 
He waits for Hector's men to arrive. As in season 2, Hector's men are in a Regalo Helado ice cream truck. They park the truck close to the hanging shoes and step out, where it's revealed that they have a spot to store their guns before crossing onto the American side of the U.S.-Mexican border. Mike startles the two men by firing his rifle into the air several times. Eventually, the men presume it's hunters — they're safe. 
Most viewers might've assumed he was going to shoot the men, but the sight of Mike brandishing a sniper rifle — especially when he was about to kill Hector with that same gun in the season 2 finale — is a particularly clever red herring. The gunshots into the sky distract the men from Mike shooting the sneaker filled with cocaine. As the truck slowly drives away, the cocaine sprinkles across it. That makes it pretty easy for American border patrol to apprehend the men, no doubt pissing off Hector in the process. 
Mike's approach also leaves little room for evidence that anyone was responsible for planting the cocaine on the truck, which falls in line with Fring's "cautious man" mantra. Based on what we've seen — and what we know from Breaking Bad — this is the beginning of a beautiful friendship. 
Mic has ongoing Better Call Saul coverage. Follow our main Better Call Saul hub here.