Frank Ocean, Young Thug "Slide on Me" Lyrics: A breakdown of the defiant remix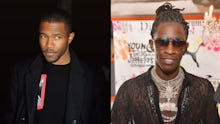 Last August, Frank Ocean spray painted a line down the center of the music industry with Endless and Blonde. He broke just about every rule regarding what a major R&B release should sound or feel like. He eschewed drums for meandering acoustic guitar passages, told genderless, fluid and complex love stories without clear romantic overtures — they were the most fascinating albums released that year, but also the most idiosyncratic.
Monday morning, the reclusive Ocean decided to revisit one of those tracks off Endless — "Slide On Me," a brief rap towards the album's end. He shared a remix version via a surprise episode of his Blonded radio, featuring another hip-hop iconoclast, Young Thug. 
A roundtable brainstorm of the world's top A&Rs couldn't come up with a better pairing. In many ways, Young Thug is trying to do to hip-hop what Frank is currently doing with R&B — stretching its boundaries, ridiculing its norms and pointing towards a new possible future. Thug's new verse details some of the impact he's already had.
Young Thug's "Slide on Me" lyrics detail his eccentricities
Despite never releasing a proper studio album, Thugger's reputation and clout in the hip-hop world has continued to grow. He's a key part of the vanguard of this new uber-melodic mumbling flows that have left many formal hip-hop critics and fans at a complete loss of how to interpret his innovations. 
His unique ethereal croons, and jazz-like melodic instincts are on full display on "Slide On Me." He uses them to discuss the ways people have underestimated him throughout his rise.
"They first saw my swag, they was laughin'," he raps in one key line. "But my bitch bad, she leavin' damage." It's a likely nod to his Jeffery mixtape album cover, where he appeared in a stunning full blue and purple dress. It was lampooned by a wide-swath of rap fans and praised by others looking forward to a less rigidly gendered hip-hop. His highly explicit "drink a lil some" line later in the song offers another graphic but cheeky way of undermining hip-hop's usual sexual politics.
"Jeffery got a mink on, he look like a cub," Thugger raps later, detailing his next fashion coup. "Ridin' in the Rollsy away from the world." 
The image is prime Ocean, a known car enthusiast, who's long illustrated the profound sense of freedom he gets from the open road. "How much of my life has happened inside of a car? I wonder if the odds are that I'll die in one," Ocean wrote in his Boy's Don't Cry introductory essay. "Knock on wood-grain."
Thugger's verse mirrors many of Ocean's original. The line: "Too many heads waitin' for my downfall/ They're like 'something's gotta give,'" offers a similar scoff at the skeptics as Thugger's "swag" line, detailed above. Ocean pledges to never stop pushing the culture: 
"I'm still working while you dream pop
If Ocean keeps releasing heat like this — while lending other young icons a prime opportunity to step outside their comfort zones, as well — the scene will be smiling on him a long time.
Mic has ongoing music Frank Ocean coverage. Follow our main Frank Ocean hub here.