13 margarita recipes you should print, laminate and keep forever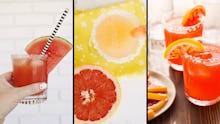 When the fifth of May rolls around, you know it's time to break out your blender: Margarita season has officially commenced. It's as good of an excuse as any to break out the tequila, salt and fruit of your choice to mix up a sour-sweet cocktail. Viva México, viva margaritas! Here's what to make: 
Key lime margaritas 
Just like the pie, only drinkable. Consider adding a crushed graham cracker rim to your glass for extra pie-ness. Get the recipe here. 
Blood orange margarita
The most beautiful citrus makes this margarita glow. Beware of temptation to drink the entire batch.  Get the recipe here. 
Pomegranate kombucha margarita
This fermented kombucha cocktail is basically health food, right? Get the recipe here. 
Frozen avocado margarita
Who needs guac when you have frozen cocktails with avocado in them? Okay, get extra avocados so you can have both. Corn chip rim anyone? Get the recipe here. 
Watermelon margarita
Get a kickstart on summer drinking with this fruity, refreshing watermelon margarita. Garnish with extra fruit, of course, and don't forget you can use the empty watermelon rind as a punch bowl... Get the recipe here. 
Sparkling raspberry margarita
One great way to make a margarita even better than it already was: Add Champagne. This bubbly margarita isn't messing around. Get the recipe here. 
Hibiscus and pineapple margarita
If you're looking for something tropical and a little out of the ordinary, shake up this floral and fruity margarita. Get the recipe here. 
Mini margarita flight
Why make one batch of flavored margaritas when you can make multiple? Spicy grapefruit, blood orange and a traditional marg are all part of this adorable, cocktail party-friendly flight. So cute. Get the recipe here. 
Cranberry margarita
Cranberries aren't just for Thanksgiving. Add a mellow note to your margarita with this cranberry juice based cocktail suitable for all year round. Get the recipe here. 
Citrus margarita spritzer
Lighten up the classic margarita with club soda and orange juice. Get the recipe here. 
Strawberry margarita ice pops
If a blended margarita isn't cold enough for you, try freezing these margarita pops on a stick. Get the recipe here. 
Beetroot margarita
Beet aficionados, your drink has arrived. Who knew root vegetables and tequila paired to well together? You probably did. Get the recipe here. 
Hickory smoked Bloody Mary margarita
Two fantastic cocktails in one — what more could you ask for? A second round, maybe. Get the recipe here.