'Mario Kart 8 Deluxe' Characters: Weight classes and the best racers in each group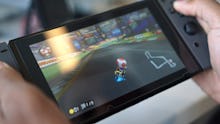 In Mario Kart 8 Deluxe, characters are shamelessly classified by their weight. While I'll never cosign body-shaming, getting to know each and every Mario Kart 8 character's weight class is necessary for victory. If you're new to the Mario Kart scene, find out if lighter or heavier racers better fit your style. 
Mario Kart 8 Deluxe characters: Lightweights
Light characters are known for their lightning-quick acceleration. If you're hit or mistakenly run into an obstruction, light characters get back in the race fast. But here's the catch: They don't have a high top speed. While you'll be able to reach your top speed more quickly than heavier characters, that top speed isn't all that high. 
Eurogamer tips us off to which characters are the lightest in the game, and IGN classifies them by how light they are. Stats on IGN's page not only reflect speed and acceleration of light characters but also point to better traction for low-weighing racers. The featherweights are as follows:
Very Light
Baby Mario
Light
Toad
Mario Kart 8 Deluxe characters: Middleweight 
As expected, middleweight characters are smack dab in the center of light and heavy characters. Lightweights may have a quick acceleration, and heavy racers may have a tremendous top speed, but those in the middle have a little bit of everything. Medium class, like light, is also divvied up into two groups:
Medium (light)
Peach
Medium (heavy)
Mario
Mario Kart 8 Deluxe Characters: Heavyweights
Where lightweights can pick up speed quickly, heavyweights take longer to get going. Once they have some time to drive uninterrupted, however, they'll be flying at speeds unimaginable for smaller characters. Just make sure not to get tripped up by a banana or shell, or you'll have to start all over in slowly regaining your top speed.
IGN splits this category into three sections, devoting a portion to the metal characters on the roster. 
Heavy
Donkey Kong
Heavier
Metal Mario/Gold Mario
Heaviest
Bowser
Mario Kart 8 Deluxe Characters: Which is the best?
Considering the nature of light and heavy characters, I would recommend light characters for beginners and heavy ones for those who've had a little bit of practice. Any Mario Kart player is bound to run into a hazard or two on a new course, and lightweight characters bounce back more quickly. If you're a veteran who's used to these courses, you'll know what to watch out for; heavyweight racers will help you show off. 
The various groups and subgroups make choosing a "best" Mario Kart character impossible. Even if we all know the dopest character is Rosalina.
Check out more Mario Kart 8 Deluxe tips, tricks and news
If you're anxious to get racing in Mario Kart 8 Deluxe, check out our video gameplay of the first 20 minutes of the game and find out the eight characters the game needs ASAP. Check out the best techniques to race with and learn how you can buy the game bundled with the console, including one bundle from Nintendo. Find out if we'reexpecting DLC and our initial impressions of the new console it's on from back in January. Or you can play Mario Kart 64 on a newer console instead, if you're looking for some nostalgic throwback. And when all else fails, back that thang up.