Ranking the best 2017 music festivals after Coachella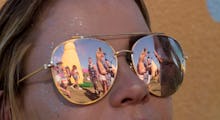 The Coachella high has faded and the drab colors and textures of real life have come crashing back down on all the fans that were so free just a weekend ago. What a bummer. 
For those on the outside, the tease was even more keen. Riding ferris wheels with beautiful half-naked people doesn't look like too bad of a life — even if it must come to end. Yet, nothing is over. If anything, this is just the beginning.
Coachella may be the first and the largest festival of the season, but that doesn't mean it's the best. It's line-up is a grab bag, a fistful of cash thrown at the hot R&B/hip-hop song charts with a few Pitchfork darlings thrown into the mix. It's far from the summer's finest offering, and even farther from being the most welcoming scene. 
If any aspects of the weekend's flood of Coachella content inspired you, consider hitting one of the festivals discussed below, starting with one of the most impressive line-ups of the year, down through the rest of the season's honorable mentions.
1. FYF
Location: Exposition Park, Los Angeles
Dates: July 21 - 23, 2017
Lineup highlights: Missy Elliott, Björk, Frank Ocean, A Tribe Called Quest, Erykah Badu, Nine Inch Nails, Solange, and Anderson .Paak and the Free Nationals
Founded in 2004, FYF Fest — originally short for Fuck Yeah Fest — has gradually become a Los Angeles institution. This year, it's bringing the heat. FYF has one of the most comprehensive and stylized lineups of the season, with some big exclusive gets, including the triumphant return of Missy Elliott to major festival headliner status. 
2. Afropunk 
Location: Commodore Barry Park, Brooklyn, New York
Dates: Aug. 26 - 27, 2017
Lineup highlights: Kaytranada, Sampha, Gary Clark Jr., SZA, Macy Gray, Thundercat, King and special guests...
As "the most multicultural festival in the U.S.," an appellative the New York Times once bestowed on the fest, Afropunk operates as an incubator for activism, alternative black arts and disparate forms of resistance. It's a festival with a mission. "No Sexism, No Racism, No Ableism, No Ageism, No Homophobia," its famed list of rules reads. Its stellar line-up, featuring a curated stage from Solange's Saint Heron label, will offer a vision of how enticing a world operating by those rules can be.
3. Panorama
Location: Randall's Island, New York City
Dates: July 28 - 30
Line-up highlights: Frank Ocean, Solange, Tame Impala, Nine Inch Nails, A Tribe Called Quest, Vince Staples, S U R V I V E, Tyler, the Creator, MGMT
Playfully described as the "the East Coast Coachella," mainly because its hosted by the same company, Goldenvoice, Panorama is a newcomer to the New York City festival scene. But 2017 might be the year it makes a name for itself. With rare Frank Ocean and Tame Impala headlining sets, and a heavy-hitting supporting line-up to match, it'll be giving New York City institution, Governors Ball, a run for its money this year.
4. Roots Picnic
Location: Festival Pier at Penn's Landing, Philadelphia
Dates: June 3
Line-up highlights: Pharrell and the Roots, Lil Wayne, Solange, 21 Savage, Thundercat, A Boogie Wit Da Hoodie
Every year, for one day and one day only, the Roots turn their hometown Philly into a musical paradise. Always featuring a highly curated lineup of acts that compliment aspects of the Roots' blend of funk, soul, hip-hop and R&B, it usually offers some potentially once-in-lifetime special collaborations. This year it's a full Pharrell and Roots set and a J. Period and Black Thought "live mixtape" session featuring Fat Joe, Mobb Deep and Scott Storch.
5. Outside Lands
Location: Golden Gate Park, San Fransisco
Dates: Aug. 11 - 13
Line-up highlights: Metallica, the Who, Gorillaz, Lorde, A Tribe Called Quest, Queens of the Stone Age, Fleet Foxes, Solange, Schoolboy Q
Outside Lands is of the more rock-oriented festivals on the list, however, like all festivals it still has a bit of something for everyone. This year, the festival will host one of the Gorillaz' only stateside festival appearances, alongside a set from Metallica, as well as a performance from Queens of the Stone Age, who will likely be coming off the release of their new record, which they seem to have finished recording and mixing earlier on Sunday.
6. Boston Calling
Location: Harvard Athletic Complex, Boston
Dates: May 26 - 28
Lineup highlights: Chance the Rapper, Bon Iver, Sigur Rós, Solange, Tool, Run the Jewels, Weezer, Major Lazer
Held over Memorial Day weekend, Boston Calling is one of the youngest festivals on this list, kicking off in 2013. Originally held in Boston's City Hall Plaza, it's re-locating this year to the Harvard Athletic Complex. Its Friday line-up is particularly stellar, featuring performances from Chance the Rapper, his one-time tour mate Francis and the Lights, Bon Iver and Solange.
7. Sasquatch! Music Festival
Location: The Gorge, Quincy, Washington
Dates: May 26 - 28
Lineup highlights: Frank Ocean, Chance the Rapper, Twenty One Pilots, Bonobo, Kaytranada, MGMT, the Shins
Sasquatch! began in 2002, right around the time the touring festival craze was petering out and Coachella and Bonnaroo were beginning to become the dominant festival institutions in the country. It's retained one of the more dedicated fan bases, for a key reason — it has its own culture. Come for Ocean and Chance this year, and come back the next because the Gorge is obscenely beautiful and the people are dope.
8. Newport Folk Festival
Location: Fort Adams Park, Newport, Rhode Island
Dates: July 26 - 28
Lineup highlights: Fleet Foxes, the Avett Brothers, Hurray for the Riff Raff, Drive-By Truckers, Angel Olson, Regina Spektor, Michael Kiwanuka
Established back in 1959 as a counterpart to the Newport Jazz Festival, the Folk Festival has helped launch the careers of scores of American icons. It's where Nobel Prize winner Bob Dylan first "went electric." It continues to make history with curated line-ups geared towards a more relaxed festival-going audience.
9. Governors Ball
Location: Randall's Island, New York
Dates: June 2 - 4, 2017
Lineup highlights: Childish Gambino, Chance the Rapper, Lorde, Wu-Tang Clan, Phoenix, Mark Ronson v. Kevin Parker, Beach House, Flume
The older of the two mainstream Randall's Island festivals took some worthwhile risks with its festival programming this year. It will include a headlining set from Childish Gambino, which, considering the scope and inventiveness of the set he put together at his 2016 Joshua Tree Pharos festival, will likely be a similar visual marvel. Who knows what the Mark Ronson v. Kevin Parker (of Tame Impala) set will sound like, but music heads won't find many things like it on the rest of the festival circuit.
10. Lollapalooza
Location: Grant Park, Chicago
Dates: Aug. 3 - 6
Lineup highlights: Chance the Rapper, Arcade Fire, Lorde, the XX, Run the Jewels, the Shins, Migos, Noname
This year's Lollapalooza will be all about one person — Chance the Rapper. Chicago's hometown hero is coming off of a stellar year, winning his first Grammy, sparking new waves of political engagement in the city and raising millions for Chicago public schools. It's a homecoming in a way, and you know he'll bring his A game.
11. Firefly
Location: the Woodlands of Dover, DE
Dates: June 15 - 18, 2017
Lineup highlights: Bob Dylan, Chance the Rapper, Kesha, the Weeknd, the Shins, Twenty One Pilots
Bob Dylan, 2016's reluctant Nobel Prize winner, will make a rare festival appearance at Firefly this year, rubbing elbows some of this season's greats: Chance the Rapper, the Weeknd, Flume and Twenty One Pilots. Pop star-turned-psychedelic punk Kesha will also have a top-line on the festival's action-packed Saturday, which, if you're buying single tickets, is the day to spring for.
April 30, 2017, 3:55 p.m.: This story has been updated and expanded.
Mic has ongoing music coverage. Follow our main music hub here.