Officers in Michigan held 5 unarmed children at gunpoint, body camera footage shows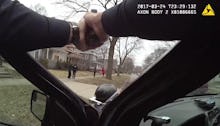 Children should have the right to walk down the street without being harassed. But on March 24, police officers did the unthinkable: They held five black, unarmed children at gunpoint on their way home from a local recreational center in Grand Rapids, Michigan.
Soon after, according to newly released video footage, a swarm of police officers surrounded the five children and told them to put their arms up and lay face down on the ground. The video footage clearly shows that the children were unarmed.
The incident terrorized the young boys, who were between the ages of 12 and 14. In the video footage, one boy could be heard asking "What did we do?" Another begged, "Can you please put your guns down?" Sobbing can be heard in the footage. "I don't want to die," one of the boys in the video said.
The children were allegedly targeted after witnesses claimed a young man dropped his gun during a fight that broke out earlier. Police said the boys matched the description and had to stop them on their walk home. Granted, these were not the suspects the police were hunting down.
Grand Rapids Mayor Rosalynn Bliss issued a statement to apologize for the incident. "The mayor is working with city leadership on a plan to review GRPD policies and procedures as part of the larger conversation around community and police relations," the statement read. "The review will include how GRPD responds to incidents involving youth."
Grand Rapids Police Chief David Rahinsky said the police officers acted professionally, but offered an apology to the families of the five boys. "I apologized to the young men and their families with a sincere apology and an explanation that the officers involved were following up on information in our ongoing efforts to keep everyone in this community safe," Rahinsky said in an April 11 city commission meeting.
You can watch the video footage below: