These NYPD officers bragged about a tiny marijuana bust — and Twitter destroyed them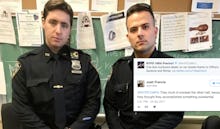 In a country where 61% of the citizenry supports marijuana legalization, you'd think that police would know better than to try and impress the populace with small weed busts. But time and again, they proudly pose with their little baggies of pot for a tweet or Facebook post, only to be roasted to a crisp by commenters.
The latest entry in this pantheon of glorious self-owns comes courtesy of none other than the NYPD — specifically, officers of the 106th Precinct in Ozone Park, Queens. It seems they took down a dealer who was packing a few grams of bud as well as a couple of machetes and... a can of Monster Energy drink.
Apparently the tweet didn't get as much traction as the precinct would have liked. They retweeted themselves after the photo was first posted.
Probably not the best move: Almost everyone who replied mocked them for gloating about an arrest for something that few consider a crime anymore.
Maybe it's time for cops to reconsider how they use social media to court praise for doing their jobs. At least Sardone and Winter can count on accolades if they continue to "aggressively enforce" noise statutes and impound motorcycles. 
Congratulations, guys: You are basically adequate officers of the law.