Donald Trump proposes cutting corporate tax rate by nearly 60%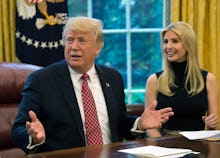 President Donald Trump is planning to pitch cutting corporate tax rates from their current rate of 35% to 15%, the Wall Street Journal reported Monday, and has directed staff to draft a plan for doing so.
According to the Journal, people familiar with the directive said Trump ordered staff to "get it done" by Wednesday, when his self-imposed deadline on his surprise Friday announcement he is planning a "massive tax cut" — one which stunned even his own staff — is set to expire. This is the last week of Trump's first 100 days in the White House, a milestone the president has publicly brushed off as a "ridiculous standard" but nonetheless has become the focus of an internal push to do something major.
Dropping the corporate tax rate to 15% would fulfill one of Trump's campaign promises, but also has to be approved by Congress and would gut government revenues. The Journal noted the congressional Joint Committee on Taxation indicated the proposed plan could cut $2 trillion from government revenues over the next decade; the Tax Policy Center previously analyzed Trump's plan and concluded if it also eliminated the corporate alternative minimum tax, it could cost nearly $2.4 trillion between fiscal years 2016 and 2026.
While the U.S.' 35% corporate tax rate is one of the highest in the world, many corporations already pay a much lower rate thanks to various loopholes. With few details on the plan, it's not clear how many of those loopholes would be closed, and it is very unlikely eliminating them could possibly close the gap. Republicans have proposed various plans including a 20% tax on imports to make up some of the lost revenue, but administration officials have not committed to absorbing it into their proposal.
Such a deep cut is even larger than that proposed by Republicans in Congress, noted the New York Times, meaning Trump could be putting himself in the paradoxical position of proposing a measure so business-friendly even his conservative colleagues in the GOP will have problems with it. Disregarding debts some branches of the government owe others, the national debt already stands at around $13.9 trillion — meaning Trump's tax plan could accelerate its growth by massive margins over a decade.
As the Times noted, Trump's Secretary of the Treasury Steve Mnuchin remains confident the tax cut will "pay for itself" by stimulating higher economic growth.
Adding a major tax cut to coming budget negotiations could increase the risk of talks derailing, and possibly force a government shutdown when the deadline expires on April 28. Speaker of the House Paul Ryan has already sidelined other priorities including repealing the Affordable Care Act to prevent that from happening.
Opposition to such a cut is certain from Democrats, who are already rushing to attack the president for proposing massive, across-the-board cuts to virtually every function of the federal government to pay for a $54 billion increase in military spending.
"They will lose a boatload of revenue that we can't afford to lose and far more than this team will offset by closing loopholes," Jared Bernstein, a former adviser to Vice President Joe Biden, told the Journal. "These promises about all kinds of growth and investment that are going to be triggered by these tax cuts never appear, and the empirical historical record is clear on that."