'Bates Motel' series finale leaves a few questions unanswered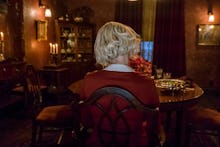 Bates Motel came to an end Monday night with a fantastically fitting ending. While the series is based off of Alfred Hitchcock's Psycho, the show didn't follow the mapped-out route. It was an unexpected and appropriate goodbye to a drama that took on a life of it's own over the past five seasons. But that doesn't mean the finale wrapped up everything neatly. We've still got a few unanswered questions.
[Editor's note: This article contains spoilers from the Bates Motel series finale.]
Did Dylan ever find out that Caleb died?
The last few episodes of season five were pretty rough for Dylan. He found out that his mom died two years earlier and that his brother is a serial killer. A couple of bodies turned up — including his mother-in-law — but it doesn't appear as if he ever learned about the death of Caleb. 
What happened to Dr. Edwards?
Norman appeared to have a cup of coffee with Dr. Edwards early in the season, but it was mentioned in episode seven that the Pineview psychiatrist went missing about a year prior. Was Norman hallucinating Dr. Edwards? And did he play a role in his death? 
Did Marion Crane get away with stealing the money?
We didn't expect to get this answer, but a gal could hope for a Bates Motel sequel that shows Marion Crane starting a new life with that suitcase full of cash. Maybe Rihanna's character starts scamming rich men with the help of a character played by Lupita Nyong'o?
Mic has ongoing Bates Motel coverage. Check out our main Bates Motel hub here.