Arkansas executions: State executes 2 inmates in one day, first for a US state since 2000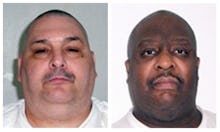 On Monday night, Arkansas executed two convicted murderers, the first time since the year 2000 a state has meted out the punishment for two inmates on the same day, the New York Times reported. 
Jack H. Jones, Jr. died at 7:20 p.m., while Marcel Williams died at 10:33 p.m. Four days prior, the state executed Ledell Lee, who was convicted of murder in 1993 and maintained innocence until his death. The state is also due to execute Kenneth Williams Thursday. 
Arkansas Gov. Asa Hutchison decided to schedule the execution of eight prisoners before its batch of midazolam, a drug used to render a person unconscious during the execution, expires at the end of April. The state previously had not executed anyone in 12 years. The Supreme Court blocked four of the rushed executions, the Times reports.
Williams' lawyers tried to block the execution minutes up to the actual event, claiming there might be complications based on Jones execution four hours earlier. They argued Jones gasped for air during his execution, "evidence of continued consciousness," according to the Times. Though Judge Kristine G. Baker did issue a temporary stay, she ultimately directed Williams' claim. 
Both Williams and Jones' lawyers challenged the use of midazolam to sedate the inmates, claiming their particular medical conditions would render the drug ineffective. The executions would therefore be unconstitutionally painful. 
Jones did not gasp for air, according to an Associated Press reporter present. The reporter also said Jones apologized before he died to the daughter of the woman he killed.
"I am not a monster; there is a reason those things happened that day," he said. "I am so sorry, Lacey. Try to understand. I love you like my child." 
Lacey Seal, the victim's daughter, made a statement to reporters, the Times reported. 
"I am glad it's done," she said. "I'm glad that part of my life, that chapter, is closed."