South Dakota transgender woman denied entrance to soup kitchen for wearing a dress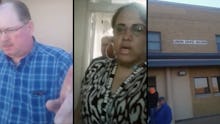 On Saturday morning, Isabella Red Cloud, a transgender woman, drove with a friend to Union Gospel Mission in Sioux Falls, South Dakota, hoping to get some breakfast. She says was refused service because she was wearing a dress. She fired up Facebook Live and documented her being kicked off the premises. 
The video, viewed over 13,000 times, shows an unnamed employee escorting Red Cloud out the building's entrance. When she asks the employee on camera if she's being asked to leave because of her dress, he seems to answer affirmatively The employee repeatedly tells Red Cloud she's "trespassing." 
Red Cloud told KDLT, "I cried, I contemplated suicide, I felt sad, I felt weak." However, she returned with some friends the next day to attend church service. Red Cloud was once again told she could not be on the church's property. A friend of Red Cloud's documented the second incident on Facebook Live. 
When the same employee bars Red Cloud from entering, Red Cloud's friends begin to ask him why her clothing matters. When a person emerges wearing jeans and a zip-up track jacket, two of Red Cloud's friends ask why it's OK for a woman to wear men's clothes and attend service but Red Cloud's attire remains a problem. 
Union Gospel Mission director Fran Stenberg told the Argus Leader that Red Cloud's case is not exceptional: She's asked trans people to leave for wearing dresses on multiple occasions. 
"It's not about transgender, it's about what's in the heart and soul of a man. God created you as a man," Stenberg said.
"I don't know a thing about a woman being turned away," Stenberg told LGBTQ Nation. "It was a man that was turned away." 
Stenburg said that people at the kitchen are expected to act a certain way in order to gain entry. 
"We're more concerned with how you're being than how you look," Stenburg told the Argus Leader.  
Red Cloud said she'd been to the mission and asked to leave before, about seven years ago. The Leader did not say whether she had been asked to leave seven years ago for her attire or for her behavior. 
Red Cloud was released from prison three months ago and is currently couch-surfing with friends for shelter. 
"Places like that are for people like me," Red Cloud told the Leader. "They're supposed to be there for everybody."
Kendra Heathscott of TransAction South Dakota told the Leader that they hope to work with the mission to talk about trans access to the space. 
"We would love to have the opportunity to talk to them and humanize the situation," Heathscott said. "We weren't dressing up as women, we were dressing up as men." 
South Dakota does not have state-level protections against discrimination for LGBTQ people, according to the Leader. 
In January, Sioux Falls was the site of the death of Jamie Lee Wounded Arrow, the first reported transgender woman killed in South Dakota. When her death was reported on Jan. 7, she was already the second transgender woman killed in 2017.