Ivanka Trump booed after saying her father is a "tremendous champion" of families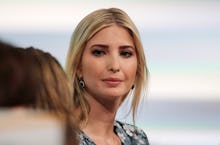 First daughter and presidential adviser Ivanka Trump was booed on Tuesday while speaking on a women's economic empowerment panel, after she praised her father, President Donald Trump, for being a "tremendous champion of supporting families."
Ivanka Trump was also asked to defend the "attitudes toward women your father has publicly displayed."
In response, Ivanka Trump blamed "criticism from the media" for how her father is viewed on women's issues.
"I know from my personal experience and I think the thousands of women who have worked with and for my father for decades when he was in the private sector are a testament to his belief and solid conviction in the potential of women and their ability to do the job as well as any man," she said.
Trump, who upgraded to being a formal a White House adviser in March, was invited to speak at the W20 Summit in Berlin by German Chancellor Angela Merkel on a panel called "Inspiring Women: Scaling up Women's Entrepreneurship." 
The W20 Summit seeks to "promote women's economic empowerment." 
Trump received tepid applause for her remarks, as opposed to the other panelists, which included Merkel, International Monetary Fund managing director Christine Lagarde, Canadian Minister of Foreign Affairs Chrystia Freeland and Queen Máxima of the Netherlands, among others.
In a March Facebook post announcing her appearance on the panel, Trump said she was "looking forward" to speaking to "promote the role of women in the economy and the future of our workforce globally."
Just before she was booed for praising her father, President Donald Trump tweeted that he was "proud" of his daughter "for her leadership on these important issues."
"Looking forward to hearing her speak at the W20!" Trump tweeted.