Beyoncé announces college scholarship for women in honor of 'Formation' anniversary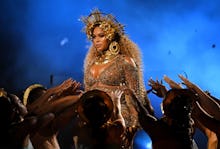 All right, scholars, now let's get in formation.  
On Monday evening, Beyoncé updated her website with the announcement of a new scholarship in honor of the anniversary of her landmark album Lemonade. 
The scholarship, called Formation Scholars, will "support young women who are unafraid to think outside the box and are bold, creative, conscious and confident." 
Four scholarships will be awarded in total to four undergraduate or graduate students at eligible schools, though only one student per school will be chosen. Queen of Education Beyoncé chose two historically black colleges, Howard and Spelman, and two arts-focused colleges, Berklee School of Music and Parsons School of Design, as the institutions where the scholarships are available. 
The scholarships are available to women seeking degrees in the creative arts, literature, music or African-American studies. 
Beyoncé seems to be paying forward a lot of the goodwill that Lemonade has brought her. Just earlier this week, Lemonade won a Peabody Award, an award some of her haters have yet to receive.