The 'Kingsman: The Golden Circle' trailer sees the return of Colin Firth with an eyepatch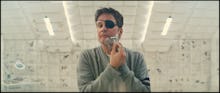 The first film in what, at this point, could be referred to as the Kingsman franchise was a breath of fresh air: a spy movie with convincing action, unrepentant gore, self-aware humor and, um, anal sex? Anyways, the first trailer for the sequel, Kingsman: The Golden Circle has arrived, showing bespectacled British agent Eggsy meeting spies from across the pond, the "Statesman" of America. 
The Golden Circle appears to have a similar setup in place: the Kingsman are in danger, the world could be too, so it's up to Eggsy and his new American allies — who ostensibly includes new castmembers Jeff Bridges and Channing Tatum — to take care of business against a new enemy. Here's the full plot synopsis, courtesy of 20th Century Fox: 
In 'Kingsman: The Golden Circle', our heroes face a new challenge. When their headquarters are destroyed and the world is held hostage, their journey leads them to the discovery of an allied spy organization in the U.S. called Statesman, dating back to the day they were both founded. In a new adventure that tests their agents' strength and wits to the limit, these two elite secret organizations band together to defeat a ruthless common enemy, in order to save the world, something that's becoming a bit of a habit for Eggsy....
More importantly, The Golden Circle trailer confirms that Colin Firth's character from The Secret Service, Galahad, will return — though they've been hinting at this for a while. 
How is Galahad back from the grave? In The Secret Service, Samuel L. Jackson's villain Valentine appears to shoot him in the head. Well, he's got an eyepatch now, so perhaps it was a flesh wound. We'll probably get more details closer to the film's premiere. 
Either way, we're not going to complain — The Golden Circle looks awesome. 
Kingsman: The Golden Circle arrives in theaters Sept. 22. You can watch the first trailer below: 
Mic has ongoing movies coverage. Follow our main movies hub here.