Andrea Tantaros has filed another suit against Fox News for spying on her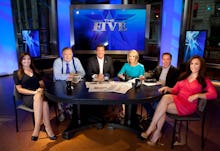 Andrea Tantaros has slammed her former employer Fox News with a second lawsuit, this time for allegedly spying on her and other sexual harassment accusers.
According to NPR, Tantaros is claiming current co-president Bill Shine and other Fox News executives surveilled her using a fake Twitter account and installed software on her computer in order to monitor her private communications at the company. 
Tantaros recalled an incident where she received a tweet that was an ad for the movie Black Scorpion after a friend had been hospitalized for a scorpion bite. Another incident involved Tantaros receiving a tweet about memorializing her brother's death just after she and her mother had spoken about his passing on the phone.
"This is cyberstalking on steroids, because, as alleged in the complaint, they harassed her through sock-puppet social media accounts which conveyed the illegal fruits of their electronic surveillance of her," Judd Burstein, Tantaros' lawyer, told NPR on Monday. "It was in essence two crimes committed at the same time."
Fox News's legal representation at Dechert LLP said the network "flatly denies" Tantaros' allegations.
"They have no knowledge of the anonymous or pseudonymous tweets described in her complaint," Dechert's statement reads. "This lawsuit is a flimsy pretext to keep Ms. Tantaros and her sexual harassment claims in the public eye after the State Supreme Court directed her to bring them in arbitration."
The network, of course, called Tantaros an "opportunist" and a "wannabe" when she filed her initial lawsuit in August, claiming she'd been sexually harassed be then-CEO Roger Ailes and retaliated against for speaking up about it.
 "If one were cynical, the firing of O'Reilly and Ailes, particularly given the sexual predator bonuses they received, were efforts to cauterize deep wounds," Burstein told NPR. "But now that they are presented with misconduct and illegality that goes far beyond anything that has been reported to date, the question that everyone should be asking is, what are they going to do about it?"