Guards could face charges for leaving mentally ill prisoner to die of thirst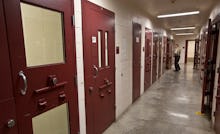 The corrections officers who left a prisoner to die of dehydration in his Milwaukee County Jail cell in April 2016 could face criminal charges, the Milwaukee Journal Sentinel reported on Monday.
During an inquest on Monday to determine whether the guards in question should face charges, prosecutors described how guards left 38-year-old Terrill Thomas in solitary confinement with no running water for seven straight days until he died of dehydration.
Thomas was being held at the Milwaukee County Jail last year after he was arrested on charges that he allegedly shot a man, then drove to a nearby casino and fired two rounds inside the building. According to the Sentinel, Thomas' family members say he was having a "mental breakdown."
While at the Milwaukee County Jail, guards reportedly turned off the water in Thomas' solitary cell as a "disciplinary measure" after he flooded another cell, according to a statement from Assistant District Attorney Kurt Benkley.
The guards who cut off his water never documented that they had done so — and Thomas' water was never turned back on. Over the next seven days, Thomas grew weaker and lost nearly 35 pounds, the Sentinel reported.
Thomas was not given water or other drinks with his meals, the Sentinel reported, and he was never taken out of his solitary cell during his time at the jail — despite the fact that people being held in solitary confinement typically get one hour of recreation time a day.
Thomas allegedly never asked for medical attention. Benkley said Thomas had bipolar disorder, which jail staff knew, and that he was "was unable to tell people about his basic needs."
At least one corrections officer testified that he did not know that the water in Thomas' cell had been shut off, and said that it is not "sheriff's office policy" to cut off someone's water indefinitely.
On his eighth day in solitary confinement, Thomas was found dead in his cell. His cause of death was later identified as "profound dehydration," the Washington Post reported, and the medical examiner ruled his death a homicide.
The Milwaukee County Jail where Thomas died is under the control of Milwaukee County Sheriff David Clarke, an outspoken and controversial figure who spoke at the 2016 Republican National Convention and campaigned for President Donald Trump, CNN reports. 
Thomas was one of four people who died at the Milwaukee County Jail over the course of six months in 2016, the Post reported. Lawmakers and activists have demanded that Clarke resign in the wake of the deaths.