Bill O'Reilly returns in ominous podcast, warns "the truth" will come out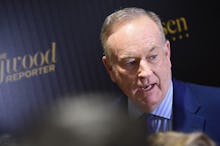 For those who thought they'd finally get a break from alleged serial sexual harasser Bill O'Reilly, now that he has been booted from Fox News: Sorry but no. O'Reilly is back on the air and ready to drop some hard truths, truths he believes will leave listeners shook. 
During a Monday night installment of his podcast, No Spin News, O'Reilly announced his intention to revamp the show to resemble the kind of news program he's no longer allowed to host at Fox, one with guests and discussion of headlines and pretty clear conservative bias. 
And then he warned, ominously, that the truth — or, more precisely, his truth — will out. 
I am sad that I'm not on television anymore. I was very surprised how it all turned out. I can't say a lot, because there's much stuff going on right now.
O'Reilly was fired from Fox, formerly the home of his O'Reilly Factor, on Wednesday, after a New York Times report — co-authored by a female reporter he once threatened — revealed that he and his employer had paid out over $13 million in hush money to women who'd accused the host of sexual and verbal harassment. On his podcast, which has been available on his website since 2009, O'Reilly explained that he was constrained in what he could say, that he didn't "want to influence the flow of the information" or give the media any more words to "misconstrue." 
But O'Reilly has always exercised sexist behavior toward women, particularly black women, and he's done so on air. 
He's also been publicly accused of sexual harassment before. It's hard to guess what, exactly, his defense will be, although if old habits do indeed die hard, it's reasonable to expect that he will mount an ugly attack on the women who accused him, and that his audience will be in every way here for it.