New York State will subsidize breast milk for preemies born to low-income families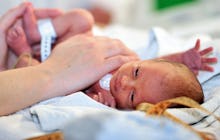 New York State has included a stipulation in its 2017-18 budget plan to help keep low-income families' newest additions healthy.
According to the Huffington Post, the state legislature has given Medicaid the green light to cover pasteurized donor human milk for premature babies in the NICU.
"When a mother's milk is not available, PDHM is the next best option to give these babies a fighting chance," Sen. Kemp Hannon wrote in a press release published by the outlet. He added that the breast milk will save Medicaid spending in the long run by safeguarding low-income preemies against infections, intestinal issues and developmental disabilities.
Julie Bouchet-Horwitz, the executive director of the New York Milk Bank, described access to breast milk as an economic issue, telling the Huffington Post all babies — "regardless of economic status" — should be able to reap its health benefits.
Luckily, she said legislators from both sides of the aisle agreed.
"We are putting our babies first and our legislators understand that," she said.
The perks of breast milk and breastfeeding continue to be hotly debated, with many new mothers being shamed for formula-feeding their children.
While some studies suggest that children who breastfeed have higher IQ scores than those who didn't, many researchers fail to acknowledge the elephant in the room: that mothers who have the time to breastfeed or the economic resources to pump their breast milk, which can be costly, usually come from fundamentally different socioeconomic circumstances than those who don't. 
Still, there is research that shows breast milk can be a huge plus for preemies, who are at a higher risk of the intestinal disease necrotizing enterocolitis. In 2014, a study found that premature infants who exclusively drink human milk significantly reduces their risk of contracting the disease.
"Ensuring our most fragile infants have access to PDHM when in the NICU and the mother's milk is not an option is the next step in promoting the lifelong benefits of breast milk," Hannon said.