Netflix's 'The Legend of Monkey' controversy: The Chinese novel remake is angering viewers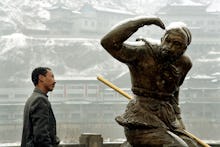 We may have yet another case of whitewashing on our hands. 
Netflix, TVNZ and ABC Australia are teaming up to create The Legend of Monkey, a television adaptation based on Journey to the West, a famed Chinese piece of literature that dates back to the 16th century. And while this would appear to be a great opportunity to cast some young and upcoming Chinese actors, it seems this will go down as a missed opportunity. 
Despite recent controversies surrounding Matt Damon's role in The Great Wall and Scarlett Johansson's casting as Major in Ghost in the Shell, the announced cast of The Legend of Monkey seems to be inexplicably non-Chinese.
According to Deadline, the series cast will include Chai Hansen as Monkey, Luciane Buchanan as Tripitaka, Josh Thomson as Pigsy and Emilie Cocquerel as Sandy. 
While The Legend of Monkey has missed a chance to give a shot to young actors of Chinese descent, the cast is not entirely non-Asian. Nextshark points out that the only main cast member of Asian descent is Chai Hansen, who is half Thai. 
Erin Chew of Yomyomf notes that "whitewashing" may not be the appropriate term for the cast of The Legend of Monkey, as only Emilie Cocquerel is Caucasian. Chew states further that Luciane Buchanan comes from a Pacific Islander and Maori background, while Josh Thomson also has a Maori background.
But having a diverse cast does not necessarily address the issue with The Legend of Monkey. The bottom line is that a famed Chinese tale is set to be adapted with a distinct lack of Chinese cast members. And this is not sitting well with fans of Journey to the West, and its litany of adaptations. 
"Even the Monkey King with all his powers is not immune to whitewashing," wrote one Twitter user in response to a Variety article on the adaptation. 
"I wanted so badly to get as excited as the rest of social media about The Legend of Monkey, the upcoming reboot of the hit 1980s show Monkey, but I can't," wrote Ky Chow in an opinion for Australian's news.com.au website. 
And the responses do not stop there, with many Twitter users reacting after reading Ky Chow's opinion. 
Actor Chai Hansen also responded to Chow on Twitter saying, "right here I'm Asian...or don't I look Asian enough for you?"  
This response has led to a bit of a back forth between the actor and Chow, which you can read on either of their Twitter pages. 
As of this writing, Hansen has ended the exchange with the following tweet:
We will have to wait and see how audiences react to The Legend of Monkey's take on the Chinese classic when it is released in 2018. 
Mic has ongoing coverage of Netflix. Please follow our main Netflix hub here.