iPhone 8 rumors say there will only be 2 phones, but you shouldn't believe it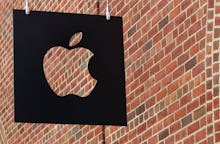 There's a lot of confusion surrounding the next iPhone launch, as the next-gen device is scheduled for release on the original iPhone's 10th anniversary. While it was reported from the start that Apple would release a better device to commemorate the milestone, it was unclear how it would fit in with the existing phone lineup. Most analysts are now in agreement that there will be three devices: two iPhone 7S models in line with the typical upgrades and one 5.8-inch premium anniversary model.
The former — 4.7-inch and 5.5-inch LCD iPhones — are believed to launch in the fall, as usual, and come with some upgrades, just like any other new generation of the iPhone. The premium handset, which is believed to cost around $1,000, is garnering a lot of attention for its fancy features.
But a new report from MacRumors says a Chinese tech blog claims to have insider information that there will only be two iPhones this year: an iPhone 8 and an iPhone 8 Plus. If true, it's not terrible news, since it suggests all the high-end specs will come to both handsets. That said, MacRumors notes that the blog is questionable and likely doesn't have its facts straight.
What's the iPhone 8 like? It's supposedly coming equipped with an edge-to-edge OLED display that is essentially bezel-less. The device will have a fingerprint sensor within the display, which means there will be no home button. Other rumors suggest there may be wireless charging, a front-facing dual lens camera, a new smaller A11 chip, extended battery life and a 3-D sensing system to support augmented-reality technology — or "some form of facial/gesture recognition."
When it comes to the fingerprint sensor and OLED display, Apple has come across a few obstacles. Rumors whirling around the device suggest that the tech giant has not been able to perfect the technology, which is resulting in delays for when the device will launch. There's even speculation from Twitter that Apple will go the Samsung route and embed the sensor on the back of the device, much to the dismay of fans on the internet.