As GOP seeks to scale back LGBTQ protections, the ACLU threatens legal action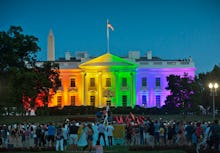 The American Civil Liberties Union says it will sue President Donald Trump if he signs an executive order that threatens the rights of LGBT people.
USA Today obtained a copy of a letter signed by 51 Republican members of the House who urged Trump to live up to his campaign vows to defend religious liberties. 
The lawmakers want Trump to sign a draft executive order which came to light in February. Based on a leaked copy of the draft, The Nation reported in February that the order "would create wholesale exemptions for people and organizations who claim religious objections to same-sex marriage, premarital sex, abortion and trans identity."
Trump, who is signing a flurry of executive orders as he nears the benchmark of his first 100 days in office, promised during his campaign to dial back all orders signed by his predecessor, Barack Obama. 
Among Obama's orders was one that prohibited federal contractors from discriminating against gays and lesbians.
The 51 House members, per USA Today, wrote Trump to ask that he sign the draft order "to protect millions of Americans whose religious freedom has been attacked or threatened over the last eight years."
The ACLU warned via Twitter Tuesday morning that "If President Trump signs an executive order targeting the LGBT community for discrimination, we'll sue."
"This discrimination would violate our Constitution, and the ACLU will not hesitate to challenge it in court," Ian Thompson, a legislative representative for the ACLU, said via email Tuesday. 
"We urge President Trump not to follow fringe, anti-LGBT extremists down this ill-advised path of licensing discrimination under the guise of religious liberty," Thompson said, arguing that the order would result in "wide-ranging, taxpayer-funded discrimination against LGBT people, women, and religious minorities." 
"Those representatives advocating for this [executive order] in Congress are urging a return to a discriminatory past, and are a minority even among very conservative House Republicans."
USA Today cited an unnamed senior White House official who said Trump opposes discrimination and "has been clear about his support for the LGBTQ community" both in the aftermath of the Pulse nightclub shooting in Orlando and at the Republican National Convention. 
At the same time, the official said the president "believes there should be policies that allow for people to express and maintain their strongly held religious beliefs," something he played up during the campaign while addressing gatherings such as the Values Voter Summit.
Ohio Republican Rep. Warren Davidson, a signatory of the letter, told USA Today religious liberty protections should also be palatable to Democrats as a matter of upholding First Amendment rights for all.