What day and time are new episodes of 'The Handmaid's Tale' on Hulu?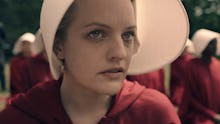 The latest original series offering from Hulu is The Handmaid's Tale, which premiered on the streaming service Wednesday. 
The first three episodes of the show are currently available to stream, and the show has garnered positive reviews so far. 
What day and time do new episodes arrive on Hulu?
Hulu takes its time with letting viewers binge watch its shows. After fans have devoured the first three episodes now streaming, new episodes of The Handmaid's Tale will arrive on the service on Wednesdays at 12 a.m. Eastern on a weekly basis. The limited series consists of a total of 10 episodes. 
The plot
The series is based on the book of the same name by Margaret Atwood. The dystopian series boasts an all-star cast, including Elisabeth Moss, Samira Wiley and Alexis Bledel. This is the official synopsis of the series:
Adapted from the classic novel by Margaret Atwood, 'The Handmaid's Tale' is the story of life in the dystopia of Gilead, a totalitarian society in what was formerly the United States. Facing environmental disasters and a plunging birthrate, Gilead is ruled by a twisted fundamentalism in its militarized "return to traditional values." As one of the few remaining fertile women, Offred (Elisabeth Moss) is a Handmaid in the Commander's household, one of the caste of women forced into sexual servitude as a last desperate attempt to repopulate the world. In this terrifying society, Offred must navigate between Commanders, their cruel Wives, domestic Marthas and her fellow Handmaids – where anyone could be a spy for Gilead – all with one goal: to survive and find the daughter that was taken from her.
Mic has ongoing TV coverage. Please follow our main TV hub here.