Nintendo Switch Stock: Toys R Us to add supply for the 'Mario Kart 8 Deluxe' release date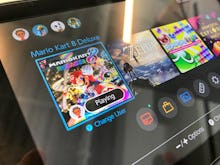 The Mario Kart 8 Deluxe release date is closing in quick, and Nintendo Switch stock is still scarce. The racing game has retailers playing their own race, seeing who can get back to selling the Nintendo Switch again first; Target and Best Buy have already done so, and the latest retailer to join them is now Toys R Us.
Nintendo Switch stock: Toys R Us will have additional supply for Mario Kart 8 Deluxe release weekend
If you still don't have a Switch, Toys R Us may help change that on Friday. In a statement sent to Mic, a spokesperson for Toys R Us wrote:
Toys R Us is celebrating the launch of Mario Kart 8 Deluxe by bringing Nintendo Switch back to store shelves this week. On Friday, April 28, all stores nationwide will have limited inventory of the console. Like our previous inventory drops of this hot item, we recommend that customers get in line at their local store before the doors open at 10am on Friday.
You'll want to check for your local Toys R Us and see if they'll be participating in the sale. See what time your local store opens so you don't find yourself arriving an hour too late. 
Nintendo Switch stock: Which store is your best bet for the Mario Kart 8 Deluxe release?
Best Buy, Target and Toys R Us will have Nintendo Switch stock in time for Mario Kart's release — but which should you try your luck with?
Each store has pros and cons depending. Target, for example, offers a purchase bonus when you buy Mario Kart 8 Deluxe there. Best Buy has the gamer club, allowing members to snag 20% off their purchase. If the two stores are out of reach and Toys R Us is more convenient, that may be the option to go with. Whichever you choose, make sure you've brushed up on your racing technique before accepting any kart race challenges on the way out of the store.
Check out more Nintendo Switch news and coverage
Looking for more Nintendo Switch news? Check out how blind gamers are using the Nintendo Switch. Nintendo's left Joy-Con issue turns out to be a hardware problem — here's how to solve it. Find out how to buy a console amidst the recent restock. Learn why the Switch cartridges taste so bad. Check out our comparison photos sizing up the Switch to the Wii U GamePad (part one and part two), or find out how to make use of ethernet without the dock and the best way to get alerts when new stock arrives.