'Persona 5' Hierophant Confidant Guide: Become a better barista with Sojiro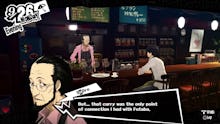 In Persona 5, Sojiro Sakura is one of the first characters you meet. Although it seems like he strongly dislikes you in the beginning, Sojiro becomes a confidant and unlocks advancement in the Hierophant Arcana. 
Sojiro runs Cafe Leblanc and through your interactions, you'll become his coffee and curry apprentice. The abilities you get from Sojiro are among the simplest, but also some of the most useful. 
Persona 5 Hierophant Confidant Guide: Making Sojiro love you a latte
There are two distinct time frames to building a relationship with Sojiro — the first one starts at the beginning of the game. Right when your bond is formed, you're able to start working up the confidant ranks. However, once you get to rank 4, you'll have to wait to advance further. According to RPG Site, the second section begins all the way on 8/23, giving the player plenty of time to get to rank 4. 
Sojiro is a pretty easy confidant to get to know. When it comes to dialogue, you're just going to want to pick the options that would make him a proud uncle. For a complete breakdown of dialogue options, IGN has prepared a handy chart to making the most out of each interaction. 
Making coffee and curry is extremely important when you're prepping for combat. Coffee and curry both replenish SP — and for a while, they're the only consistent items that can. Stocking up on both coffee and curry can be extremely helpful in making palace runs more time effective. 
More Persona 5 news, updates, tips and tricks
For more on the latest entry in the Persona series, check out the rest of what Mic has to offer. Here's a guide on how to capture Personas, and here's one on building relationships with the game's Confidant system. Here are some tips on beating the first boss and the second boss. Finally, here are the answers on some of the crossword puzzles.