'GTA Online' Gunrunning DLC: Fans speculate on what the DLC will focus on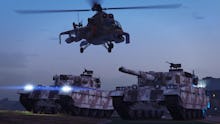 You may not be too excited that Rockstar recently made a handful of Returning Player bonuses  available to all Grand Theft Auto Online users, especially since that material is technically three years old. However, there's still a lot of new stuff players of the persistent online portion of GTA 5 — which has been going strong since the game's 2014 release — can look forward to.
The latest gunrunning DLC might give you a little more to do, if you've already bought all the expensive cars in "Import/Export" and aren't interested in trying out some heists or completing the Criminal Mastermind bonus.
GTA Online gunrunning DLC: Rockstar promises new DLC content to come
According to a Rockstar announcement, new DLC will arrive throughout the spring and summer. The briefing, which dropped during the 2017 Stunt Race Event nearly two months ago, included a promise of new vehicles — it is GTA, after all — and new missions to complete, under a header that read "Gunrunning and more coming later this summer." Here's what Rockstar teased under that header:
Stock up and bunker down as you take on the craziest militias across the state of San Andreas in another massive update for GTA Online. Featuring brand-new weaponized vehicles and exciting new missions, get ready to fight for supremacy in the illegal arms trade and wage war with the latest in high-powered military hardware.
Unfortunately, we haven't gotten much more info about what the new update will bring. Thankfully, the internet has provided more than enough speculation for all of us until the actual update drops or Rockstar releases more information.
GTA Online gunrunning DLC: Fans hope for new guns
GTA Online subreddit user ComradeChernov seemed hopeful the DLC update might come with more guns. Their post includes an image of several guns circled in red, with ComradeChernov wondering whether the guns in question will be added in the new update.
Aside from some vain hopes that Rockstar's update will let players dual-wield pistols — or come with more civilian firearms or even a remote-controlled missile — most players assumed these changes would be cosmetic.
GTA 5 Cheats wondered if the new update might be the next step in the CEO storyline for GTA Online. After all, players have previously had small-scale white-collar crime, black-market sales and illegal car trading, so it would make sense to finally step up into gunrunning, even if it seems comparatively low-class when compared to selling fancy cars.
GTA 5 Cheats did say there's a chance it could be related to the game's Bikers faction, a supposition that was met with equal parts excitement and disappointment on Reddit. Some posters hoped the update might include both CEOs and Bikers so there's something for everyone, but until more concrete information arrives, it's tough to say exactly what Rockstar has in store for GTA Online.
More GTA Online tips and tricks
Check out Mic's GTA Online guides on how to buy Shark Cards, get rich without buying Shark Cards, run an auto theft ring, buy and sell property, increase your strength stat, treat yourself to plastic surgery and how to kill the Insurgent, one of the most powerful vehicles in GTA Online.