Who does Alexis Bledel play in 'The Handmaid's Tale'?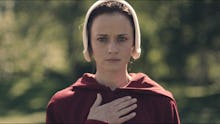 Gilmore Girls fans are no doubt eager to see Alexis Bledel in Hulu's upcoming series The Handmaid's Tale, which premieres on Wednesday. However, they're in for a very rude awakening if they're expecting Bledel to play a character anything like the angelic Rory Gilmore. 
For those unfamiliar with this dystopian story, The Handmaid's Tale is about a speculative future of America, now called the Republic of Gilead, where there is a fertility crisis due to environmental disaster and antibiotic-resistant diseases. Fertile women have been stripped of their human rights and are now the property of wealthy families who can't have children. Their names don't even belong to them — handmaids are given names that reflect their male masters. Of course, such upfront totalitarian oppression can't remain unchallenged for long. Bledel's character Ofglen plays a pivotal role in that fight.
Ofglen (aka "of Glen"), while a peripheral character in the novel, is more featured in the adapted series. At the beginning of the novel, it's unclear whether or not she's a "trained pig" (aka loyal to her master) or connected to the rebellion, but showrunner Bruce Miller alludes to which direction she takes in the series.
"She's such a fascinating character because from the outside it looks like she's almost a committed bubblehead," Miller told the Hollywood Reporter. "A 'pious shit.' But she spends the whole first episode trying to figure out if Offred is someone she can trust. On one hand she seems like a pious little shit; on the other she's a recruiter for the resistance."
So how did Bledel tackle such a mercurial part? As you might expect Rory to do — with the greatest care.
"I really felt a sense of wanting to really focus and definitely deliver the best work I could because just working with such an amazing cast you want to deliver your best," Bledel told E! News.
She went on to say how the project hit home for her with the state of the world being what it is, especially being a new mother. And she's far from alone — reviewers have noted the series feels almost "too relevant" considering it was adapted from a novel that's over 30 years old. 
In terms of how she thinks Gilmore Girls fans will react to the material and the role, Bledel hopes they'll be open-minded. 
"Gilmore was my first job so only from there did I have a chance to really experiment and see how far I could stretch; I went maybe a little too far in certain directions," Bledel told the Hollywood Reporter. 
Bledel also noted she experimented with a lot more physical rather than verbal acting in this role, which she said was inspired by Samantha Morton's performance in the film Sweet and Lowdown. 
According to the book, Ofglen will meet an untimely end at some point, but it's unclear when that point will be in the series. However, Bledel's role has been upgraded from guest star to recurring, so she could potentially be around for some time. 
Mic has ongoing Handmaid's Tale coverage. Follow Mic's main Handmaid's Tale hub here.