'Street Fighter 5' DLC: How to unlock the Thailand stage and get hot new costumes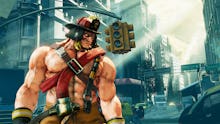 It's no Hot Ryu, but today's Street Fighter V DLC brings a smattering of new costumes as well as a new stage for those of you who are still into Capcom's most current fighting game. For real money or in-game currency, you can get a bunch of work and school-themed outfits, as well as a remastered version of a classic stage, on PlayStation 4 and PC today.
New Street Fighter 5 DLC includes sexy firefighter Alex
The new DLC comes with costumes themed around work and school. Alex, as you can see, gets a very impractical firefighter costume. It's almost as if the point of the outfit is something other than fire safety. Chun-Li gets business attire, Ryu gets a school gang leader outfit and so on. Each of those costumes is $4 each, according to GameSpot.
The other major addition is a remastered version of the Thailand stage from past Street Fighter games. If you want a new background to not pay attention to while you pummel your opponents, it'll run you $4 or 70,000 fight money, the in-game currency. 
Those prices are perhaps a bit much for cosmetic changes, but if you like Street Fighter, spend your money however you wish. Hopefully Alex doesn't actually dress like that when he's fighting fires.
More fighting game news and updates
While you wait for more beta codes, read more fighting game news on Mic. Find out more about Super Smash Bros. for Switch, the Injustice 2 roster, the Tekken 7 console release date, what to expect from Marvel vs. Capcom: Infinite and the Evo 2017 lineup.