The 11 best Disney soundtrack songs of all-time: From 'Pinocchio' to 'Frozen'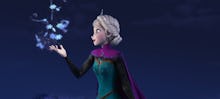 A Disney animated movie is not complete without a classic song. 
From Pinocchio to The Lion King, many of Disney's animated films over the years have provided fans with countless singalong tunes. Disney has even offered new songs thanks to movies like Frozen and Tangled. 
Few songs top the timelessness of ones like "Circle of Life" from The Lion King or "Part of Your World" from The Little Mermaid. Songs that are just so quintessentially Disney, fans know all the words. 
Here are 11 of the best songs from Disney's animated films:
One of the sweetest and most touching songs from Disney's catalog, "When You Wish Upon a Star," from the 1940 gem Pinocchio, still gives fans all the feels. 
10. "Belle," Beauty and the Beast
Belle's solo in Beauty and the Beast — aptly titled "Belle" — is one of the film's many standout numbers. She's just a girl who likes to keep her nose stuck in a book, and that is relatable. It has the classic singalong feel that any great Disney song should. 
Hercules doesn't get enough credit for its musical numbers. "Zero to Hero" is a genuine smash and the Ariana Grande version is just as good. 
Disney gave fans another traditional tune with "Let It Go" from the 2013 blockbuster Frozen. Many parents are probably tired of it being on repeat during car rides, but it's an undeniable smash from a soundtrack that hit No. 1.  
Disney has a knack for delivering some powerful ballads, and "Reflection" from Mulan is one of them. It's also hard to forget Christina Aguilera's lovely cover. 
Speaking of moving songs, "Colors of the Wind" is a poignant, memorable ballad from Pocahontas. 
Beauty and the Beast is filled with outstanding numbers, and the title song from the film stands the test of time. Angela Lansbury singing the lyrics, "barely even friends, then somebody bends, unexpectedly" will always bring audiences to tears. 
It doesn't get much better than "Circle of Life" from The Lion King. With the song playing over gorgeous visuals from the film, it's key to have tissues handy. 
3. "Be Our Guest," Beauty and the Beast
"Be Our Guest" is one of the best songs from Beauty and the Beast because it is just so irresistibly catchy. It's really hard to resist a song about putting together a delicious dinner. 
Aladdin ruined first dates forever because it's hard to top a magic carpet ride. "A Whole New World" is a sweeping ballad that is as masterful as Disney songs can get.  
As soon as the song begins, the lyrics to "Part of Your World" prompt fans to stop and sing along. "Look at this stuff, isn't it neat? Wouldn't you think my collection's complete? Wouldn't you think I'm the girl / The girl who has everything?" sings Ariel. The classic tune from The Little Mermaid is a big and boisterous number that is everything Disney fans want and need.
Mic has ongoing Disney coverage. Please follow our main Disney hub here.