Samsung Galaxy S8 Issues: Users complain of charging and Wi-Fi problems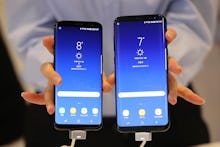 Samsung released its much-awaited Galaxy S8 earlier in April. The smartphone line, which includes the 5.8-inch Galaxy S8 and 6.2-inch Galaxy S8 Plus, features an "infinity display" that gives the handset a bezel-less curved edge and end-to-end screen. There's a new virtual assistant named Bixby that has a dedicated home button, iris-scanning technology and facial recognition capabilities.
Unfortunately, less than a month into the device's release, customers are reporting issues with charging and Wi-Fi. The South Korean tech giant told the Wall Street Journal a software update would rectify the Wi-Fi problem. This fix will only be circulated in South Korea, as Samsung said the issue is regional.
Many users are also suffering from red-tinted display screens, but Samsung said another software patch would solve the problem. Samsung told the Journal neither the red tint nor the Wi-Fi issue is a product defect.
As for the wireless charging, it's a more widespread problem, according to BGR. The issue is the S8s aren't charging with older wireless charging pads, per a Samsung support thread. "There might be an update to fix that, or it might need one of the new wireless chargers in order to work," a Samsung rep posted.