'GTA Online' Tiny Racers: GTA has a new, retro-inspired adversary mode with a lot of color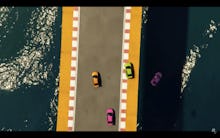 If you're done with heists and expensive, formerly unattainable cars in GTA Online, perhaps you need to go to the races — the tiny races that is. In a new update released on Tuesday, Rockstar implemented a new top-down racing mode that might help you keep cool until the next big update hits.
Here's the scoop on the Tiny Racers mode.
GTA Online Tiny Racers: It's a bright and colorful take on the game's Adversary Mode
According to the official Rockstar Games announcement, Tiny Racers is a new Adversary Mode that has you driving neon-colored cars from a top-down perspective to mimic the feeling of old GTA games. You can race with up to three opponents, and the only rule is: don't explode.
That golden rule is made a little trickier by the fact that, as one would expect, Tiny Racers is full of power-ups like rockets and bombs that you can use to destroy opponents both in front and behind you. Additional power-ups can change the vehicle you're driving in and rocket you into first place, which is a welcome gift since spending too much time in a position other than first will also cause your car to explode in a pretty spectacular fashion.
As a means to incentivize players to try the new mode out (and why wouldn't you? It's free), Rockstar is offering double GTA$ and RP (the game's XP) to anyone who participates in it to celebrate the mode's launch.
Hopefully, Tiny Racers will be enough to hold you over until the release of the new gunrunning DLC comes out later this spring. But until then, tiny colorful cars causing mayhem is what you'll get, so you might as well enjoy it.
More GTA Online tips and tricks
Check out Mic's GTA Online guides on how to buy Shark Cards, get rich without buying Shark Cards, run an auto theft ring, buy and sell property, increase your strength stat, treat yourself to plastic surgery and how to kill the Insurgent, one of the most powerful vehicles in GTA Online.