Democrats' response to Heath Mello's pro-life past is what feminists feared most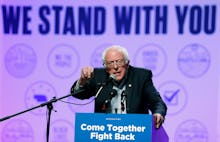 Omaha, Nebraska, mayoral candidate Heath Mello's campaign catapulted into the national spotlight almost by accident. To some extent, of course, Mello had meant for it to be attention-grabbing: With beloved progressive Sen. Bernie Sanders at his side, the mayoral candidate became an unwitting symbol of the Democratic Party's future.
But that's exactly when things went awry. 
On Wednesday, the Wall Street Journal published an article about divisions in the party, mentioning briefly — and erroneously — that during his tenure as a state legislator he supported a 2009 legislation that required pregnant women to look at an ultrasound image of their fetus before receiving an abortion. The Washington Post reported something similar the same day. Both stories got the details wrong and as a result sparked national outrage: Why would Sanders offer his support to an anti-choice candidate?
The truth about Mello's anti-abortion rights past, however, is more complicated. As the Nation reported on Monday, Mello had actually co-sponsored a bill requiring abortion providers to inform their patients that the option to have an ultrasound was available — not force patients to have them, a seemingly trivial but important distinction. Still, in the years following, Mello had supported other anti-abortion legislation, including Nebraska's 20-week ban on abortion. In 2012, however, Mello began voting with Planned Parenthood 100% of the time.
So when Sanders and other top Democrats were asked to comment on their endorsement of Mello in light of his track record on abortion rights, it would have been easy for them to point to the fact that, while he had once been pro-life, he evolved on the issue. Instead Sanders, House Minority Leader Nancy Pelosi — who's spent years fighting to include reproductive rights in the party's platform — and others, provided answers that shook pro-abortion rights advocates to the core.
"If we are going to protect a woman's right to choose, at the end of the day we're going to need Democratic control over the House and the Senate, and state governments all over this nation," Sanders told NPR on Thursday. "And we have got to appreciate where people come from, and do our best to fight for the pro-choice agenda."
He added, "But I think you just can't exclude people who disagree with us on one issue."
Many termed Sanders' stubborn defense of the mayoral candidate "strange," while Jezebel deadpanned that the senator's position on women's rights was "so progressive. So inspiring." 
But it wasn't just Sanders — soon enough Pelosi voiced the same opinion, telling Chuck Todd on Meet the Press that "of course" someone could identify as pro-life and still be considered a Democrat.
"I have served many years in Congress with members who have not shared my very positive — what my family would say — aggressive position on promoting a woman's right to choose," Pelosi said Sunday.
Then on Monday, Democratic strategist Lis Smith piggy-backed onto these Democratic leaders' remarks, warning against casting out anti-abortion rights candidates from the party. 
"My concern is that if we impose these purity tests that we will purify ourselves into irrelevance, and we will purify our party to the point where we can only win elections in states that touch salt water," Smith said on MSNBC, referencing the group of people whom conservatives like to call "the coastal elite." 
These comments landed right in the crosshairs of leftists' and feminists' deepest anxieties in President Donald Trump's America.
Mello's campaign (along with Georgia congressional candidate Jon Ossoff's) became a test for Democrats to see if they could succeed in uniting the party to win seats in deep red states, and forced top Dems like Sanders and Pelosi to define what it means to be a Democrat. With control of the government slipping further and further into the hands of conservative extremists, it's become more urgent than ever not just to energize, but to expand the party's voter base.
But this approach creates some understandable anxiety for reproductive rights advocates organizing under a president who has pledged to defund Planned Parenthood, and during his campaign, mentioned overturning Roe v. Wade. Trump's administration has already made significant gains toward the former goal, most recently with a measure that allows states to withhold Title X funds from abortion clinics. 
NARAL President Ilyse Hogue launched into a tweetstorm following the Journal's report on Mello, indicting both Sanders and Democratic National Convention Chair Tom Perez for sending candidates the message "Shame women; we'll support you anyway."
"If [the] new Dem party pretends we can get real about economic security when what blocks women's economic security is our family planning, count me out," she continued. 
While it's noteworthy and admirable that Mello evolved on the abortion issue — and unfortunate outlets misrepresented the details of his voting record — the controversy's aftermath sets the stage for a Democratic party that is willing to compromise at women's expense. Yes — winning back seats requires the party to be strategic, but victory won't mean as much if it involves selling out on Democratic principles. 
Women's lives, surely, must be worth more than a few votes.