What Kendrick Lamar's 'Damn.' outselling Drake and Ed Sheeran means for rap's future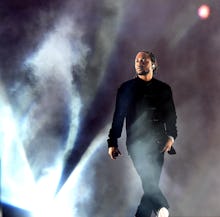 On his 2015 To Pimp a Butterfly standout "Hood Politics," Kendrick Lamar put the hip-hop community on blast for a grave contradiction in the way they support "real" hip-hop: "Critics want to mention that they miss when hip-hop was rappin'," he spit. "Motherfucker, if you did, then Killer Mike'd be platinum."
It felt like a call to arms — not a new one by any means — but two years later we've finally seen proof the hip-hop-loving world was listening. Monday, Nielsen shared the the first week sales figures of Kendrick Lamar's Damn., and they're the biggest of 2017 so far. 
It's a jaw-dropping fact considering the composition of Damn.: a dark, winding narrative of a rhyme savior battling his demons and his growing cynicism, illustrated with a series of Biblical metaphors and battle raps. It's not the kind of music that's supposed to lead a coup on the pop charts. And yet, "Humble" dethroned sentient profiterole Ed Sheeran from his 12-week run atop the Billboard Hot 100. It earned almost double what Drake managed to pull with his playlist project More Life, an album that's global scope and keen pop instincts make it a radio programmer's dream.
The boundary that separates "pop" from popular music never feels thinner than when Lamar is winning. The fact he managed this takeover without self-censoring or limiting his ambitions is a testament to just how far and wide his talents are now recognized. It's only a matter of time before the industry starts seeing the financial incentive of bringing up more luminaries like him.
How did Damn. beat More Life?
It's easy to interpret this victory as a clean win for the "real" over the pop, but the reality is more complicated.
Drake's dubbing More Life a "playlist project" is a relatively meaningless distinction, but the distance does make it difficult for people to judge the two as equals in the marketplace. 
For the sake of experimentation, Drake made several decisions that ultimately limited his performance. More Life dropped during a Saturday Apple Music livestream and didn't see a physical release until two weeks later. Damn. still lags compared with Drake's Views first week numbers, which moved over a million units.
Physical units made the difference in this race. More Life outstreamed Lamar's Damn., 385 million to 341 million, but Lamar outsold Drake on the sales side moving 353,000 versus 225,000. In an economy where sales keep plummeting, the difference is significant. This is the dedication that Lamar inspires in his "KenFolk."
The "Loyalty" Kendrick Lamar inspires
Top Dawg Entertainment, Lamar's label, has put an incredible amount of effort in branding themselves as the place where nostalgic, core hip-hop — an endangered species of rap — lives today. From "Control" up through "The Heart Part 4," few can light up a diss track on fire like Lamar. Few can cut a posse track like their Black Hippy core of Kendrick, Ab-Soul, ScHoolboy Q and Jay Rock.
However, sticking to hip-hop's core tenants has never guaranteed commercial success, by any stretch of the imagination — until now, perhaps. What Lamar and company are doing flies in the face of Jay Z's infamous "dumbed down for my audience to double my dollars" maxim that he spit on "Moment of Clarity." Lamar digs deeper with every release and his presence on the charts only grows. He seems to have tapped into a real hunger for music with depth and compositional integrity, a fact Beyoncé, Rihanna and Frank Ocean started to partially uncover last year.
To be fair, it likely took a hefty sum to put all those releases together. It's not like anyone sporting golden age credentials and a voice willing to critique institutional racism and its facilitators will chart. But what it will do is make it a hell of a lot more likely that labels will see the value in supporting an artist who proves they've got the vision, like a Killer Mike or an Oddisee. Commercial success and critical depth may be not as irreconcilable as the industry and its artists were once led to believe.
More Kendrick Lamar news and updates
Mic has ongoing coverage of Kendrick Lamar's rise. Check out our review of his previous To Pimp a Butterfly and a breakdown of the structuralist and culturalist theories of racism that clash at the album's heart. Read up on the story of his rise from Compton local favorite to king of the west coast, alongside a list of his best guest verses, a breakdown of the lyrics to "The Heart, Pt. 4" and "Humble" and an investigation of how "Alright" became a go-to protest anthem.