Today in Trump Russia News: A GOP rep implied that Flynn may have broken the law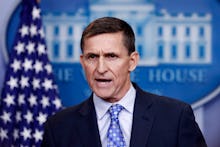 The Trump-Russia fiasco is roaring back into the news. A top-ranking Republican member of Congress is implying that former National Security Adviser Michael Flynn broke the law. Separately, a new report accused the Senate Intelligence Committee of essentially slow-walking its investigation into ties between President Donald Trump's campaign and Russia.
Flynn under fire
Tuesday morning, House Oversight Committee Chairman Jason Chaffetz (R-Utah) and ranking member Elijah Cummings (D-Md.) held a rare joint press conference. They used their remarks to imply that former National Security Adviser Michael Flynn may have broken the law by receiving payments from Russia and not disclosing it in his security clearance application. They also said he did not obtain permission to travel to Russia.
"I see no evidence or no data to support the notion that Gen. Flynn complied with the law," Chaffetz told reporters. "He was supposed to seek permission and receive permission from both the secretary of state and the secretary of the Army prior to traveling to Russia to not only accept that payment, but to engage in that activity."
The bipartisan condemnation, along with Flynn's earlier request for immunity from prosecution, suggests that Flynn could be looking at some serious repercussions down the line.
Senate investigation, what Senate investigation?
After House Intelligence Committee Chair Devin Nunes (R-Calif.) severely damaged the credibility of the House's Trump-Russia investigation, the Senate's investigation into the same matter was frequently held up as a model of what a truly bipartisan congressional inquiry should looked like. 
No longer.
A new report from veteran investigative reporter Michael Isikoff revealed that the Senate investigation has not issued a single subpoena for documents or to interview any of the key witnesses in the case. According to Isikoff, that the failure to request crucial evidence is due in part to the fact that the Senate committee chairman, Sen. Richard Burr (R-N.C.), "has so far failed to respond to requests from the panel's Democrats" to sign off on that investigative activity.
In addition, Isikoff found that the committee's investigation appears to be dramatically understaffed, leading to major questions about whether or not they will be able to produce results in a timely matter. 
Coming Up: Sally Yates testimony
The Senate Intelligence Committee may be dragging its feet, but that doesn't mean other Senate committees are. On Tuesday a Senate Judiciary subcommittee scheduled a public hearing with former acting Attorney General Sally Yates. 
Yates is the one who initially told the Trump administration that Michael Flynn had lied about his conversation with Russian Ambassador Sergey Kislyak, an allegation that ultimately led to Flynn's resignation. Yates had been previously scheduled to testify before the House Intelligence Committee, but her hearing was canceled at the last minute by Nunes.
Her new hearing is set for May 8, according to the Associated Press.