Melania Trump's First 100 Days: Comparing her style to predecessor Michelle Obama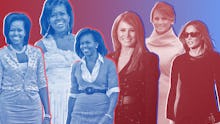 One hundred days have passed since Melania Trump assumed her role as first lady. And what have we learned about her? We've learned she's a woman of many mysteries. We've learned she and her husband, President Donald Trump, may have a rather unconventional relationship. We learned she's hesitant of even moving into the White House. 
You could easily say Melania Trump, as a first lady, is just as unprecedented as her husband's position as president. 
What's not so unprecedented, however, is her obvious affection for style, which has long been an early indication of who the nation's first ladies really are.
Already in her first 100 days, Trump has made an impact on fashion, much like her predecessors have. And honestly, when you consider just her early examples of style, Trump's first 100 days shares some similarities to that of former first lady Michelle Obama and her first 100 days. 
With a quick glance, it might be easy to write off Trump's clothes and Obama's wardrobe as being entirely different. Sometimes they are, yes. But other times, there are obvious connections between them, like the attempts at using fashion as a diplomatic tool and, of course, the controversies.
So, in honor of Trump's first 100 days, we've decided to compare and contrast the first 100 days of fashion for both Trump and Obama, showing that although they're two entirely different figures in politics, fashion can be a surprising meeting ground. 
The differences 
What they really like to wear: If we were to use just one word to describe Trump's fashion during her first 100 days, we'd say "consistent." 
Trump will never look unkempt. She knows the styles and designers that work best on her, which makes sense considering her background as a model and designer herself — and, perhaps, her years and years of being in the public eye. 
Throughout these first 100 days, Trump has shown an obvious affection for luxury, much like she did on the campaign trail. She often dons feminine dresses and skirt suits, almost always pairing them with sky-high heels. She loves to wear a coat as a dress, or even as a shirt. The silhouettes she favors are influenced by the '50s, like pencil skirts or full skirts with cinched waists. 
Trump usually sticks to solid colors, too, highlighting her clothing's beautiful tailoring. She favors hues like white, black, red and pink. She did sport a pattern earlier in April, a black dress with tiny white bows.
Everything she wears is fancy, full stop. We've yet to see her in real casual attire; there are no leggings or sneakers in sight. Will we ever? Probably not, because Trump simply knows what looks good on her and has for quite some time. 
Back in 2012, Trump gave Elle a tour of her closet and talked about some of her favorite pieces and designers, like Alexander McQueen and Chanel. Even then, she was all about looking put-together. 
"I like to get dressed up," she told Elle. "I don't see myself going out in sweats, dropping Barron at school in sweats — it's just not my style, never was. I like to put myself together and go out." 
Looking back at Obama's first 100 days, it seems she was still trying to find what worked on her, wearing a variety of clothes — gowns, dresses, sweats, sneakers — before eventually honing her own aesthetic. Unlike Trump, Obama had never lived or dressed in the spotlight, so her style was still evolving and bending to certain trends of the mid-2000s.
By not having her style down to a science, Obama was able to carve out her own first-lady look, which helped set her apart from the rest. Trump, arguably, hasn't done this. What she has done is taken her well-documented personal style and tried to infuse it with first-lady ingredients.
That may be why Trump has been accused of trying to emulate the fashions of former first ladies, from Jackie Kennedy at her husband's inauguration to Nancy Reagan and her big red coats.
Who they really like to wear: Trump has stuck with European and American designers so far, favoring luxe European design houses like Dior, Chanel, Valentino and Hermés. French designer Hervé Pierre, who created her inaugural gown, later designed Trump two additional custom-made pieces, signaling he could be an influential figure in her White House. 
Among the American designers she's worn are Michael Kors, Ralph Lauren, Derek Lam, Alice Roi and the Row, though European designers and brands far outnumber the American ones. 
Obama, however, favored a more diverse array of designers and brands, with American designers making up the bulk of her first-lady wardrobe. During her husband's first inauguration, she wore Isabel Toledo, a Chicago-based designer born in Cuba, and Vietnam-born Jason Wu, who moved to Canada and now works out of New York. In her first 100 days, Obama sported the likes of Michael Kors; Kai Milla, a black designer based in Washington, D.C.; Thakoon, who was born in Thailand but moved to American when he was 11; and Jason Wu yet again. 
By wearing these previously unknown designers, Obama developed a bit of a fashion following among them, with plenty of designers expressing extreme gratitude for Obama wearing their clothes — despite not being an established "name" in the industry, like Ralph Lauren or Versace. 
"It was an incredibly emotional, life-changing moment for me — I knew that my life and career would never be the same again," Wu told Vogue. 
As you may already be able to tell, Obama wore far more designers of color and immigrant designers than Trump. By contrast, Trump has worn just two Asian designers — Derek Lam and Joseph Altuzarra — and one immigrant designer, Francisco Costa of Calvin Klein, who was born in Brazil but immigrated to the United States.
Unlike Trump, Obama reached beyond designers and into mainstream fashion. On a trip to the U.K. in early April 2009, Michelle wore a cardigan and skirt from J.Crew, a brand she also wore on the campaign trail and on Inauguration Day, when she wore J.Crew gloves as her husband took the oath of office.
In wearing these pieces, Obama gave off an image of relatability. She was just another American woman who shopped at J.Crew, a store found at most U.S. malls. She wasn't wearing solely designer pieces, but mixing everything together. 
Would Trump ever wear a J.Crew outfit? If her pattern of sticking to uber-expensive designer pieces holds up, probably not. If anything, Trump's dressing with the goal of appearing aspirational, not relatable. 
Differences aside, there are some striking similarities between how Trump and Obama interacted with fashion their first 100 days. 
The similarities
Fashion as a diplomatic tool: Trump may appear to only care about looking chic and perfectly composed, but she's actually continued the precedent of first ladies using fashion as a diplomatic tool with other countries — and even America, too. 
For example, when she hosted the Chinese president and his wife, she wore a Valentino dress in bright red, a powerful color in Chinese culture associated with good fortune. She wore a similar color on National Wear Red Day, which encourages people to wear red to raise awareness of heart disease. 
When she met with the king and queen of Jordan, she wore green, a color that appears on Jordan's flag and one that holds symbolic value for Muslims. 
Sure, these examples could have been coincidences. But it could also signal Trump is far more aware of her position than many people think. It also shows she's not so different from her predecessor.
Since day one, Obama used fashion as a means of extending an olive branch to other countries. On Inauguration Day 2009, she wore designs from two immigrants. When she and her husband visited France in the first 100 days, she made a point to wear several pieces by Azzedine Alaia, who's based in Paris. 
Throughout her time as first lady, she'd often wear designers from the countries whose leaders visited for state dinners. 
The fashion controversies: Just 100 days into their time as first ladies, both had their fair share of controversies. Oddly enough, their biggest ones were associated with the same event: Their first official White House portraits.
For Trump, her portrait made headlines because it appeared someone had put a smoothing, flattering filter over her face. Her skin was poreless and glowy, with some saying it was airbrushed. 
"The official portrait of first lady Melania Trump is jarring because her face appears to be heavily retouched, or perhaps just photographed through a lens smeared with Vaseline," the Washington Post's Robin Givhan Robin Givhan wrote. "It is devoid of fine lines and pores. It is not just the near-perfect face of a former model; it is a face that does not look real. The artificiality of her visage is even more acute when compared to the long, chestnut locks that frame it. You don't have to squint to make out individual strands of hair. The hair is in sharp focus. Her face is not." 
Meanwhile, Obama's portrait ignited controversy because she wore a sleeveless dress, which some people found inappropriate. 
Of course, Michelle would soon be known for her arms, and her right to bare them. But in 2009, it was a problem so pronounced that after this portrait — and her husband's first congressional address, to which Michelle also wore a sleeveless dress — there was what Jezebel coined "Armgate." 
"Most of the complaints centered on the dress conveying a sense of informality on a serious occasion," style reporter Wendy Donahue, formerly of the Chicago Tribune, told ABC News. "She's kind of faced some criticism for that in the past, where people have said maybe [her clothing is] distracting from the central point, from what is going on."
What's to come these next 100 days and beyond? In these next 100 days, Trump will likely continue her formulaic way of dressing, opting for vintage silhouettes that highlight her waist and bold colors as opposed to patterns. She'll probably also continue to use fashion as an olive branch — perhaps unknowingly — signaling support for the countries whose leaders visit her and her husband or for particular causes.
Now, what we'd like to see Trump do is carve out a style all her own. That would possibly mean diversifying where and who she gets her clothes from, opting for lower-profile designers and brands that may be more attainable to the average American. Maybe she could start wearing a signature color. Maybe she could start a trend, like Obama did with cardigans. 
Trump has an immense opportunity to affect fashion, so we're just hoping she leans into it. 
To view all the outfits Melania Trump has worn her first 100 days, visit our hub here.