Chris Soules Update: 911 call sheds new light on fatal accident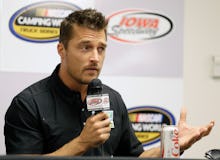 A recently released 911 call reveals new details from the fatal accident involving former Bachelor  contestant Chris Soules. The 35-year-old farmer was arrested Tuesday morning for his alleged involvement in a deadly hit-and-run in Iowa. According to TMZ, there's a record of Soules calling 911 at the scene of the accident before he fled. 
In the recording, a coherent-sounding Soules describes the accident, saying the driver of the tractor was thrown from his vehicle into a ditch. While on the call, he apparently checked the victim's pulse and mentioned he was bleeding from the mouth. 
The victim, now known as 66-year-old Kenneth Mosher, was taken to a hospital but died shortly after.
On Tuesday, Soules was charged with leaving the scene of a fatal car accident and was released from jail on a $10,000 bond later that day. The accident took place just 15 miles from Soules' farm in Iowa, Heavy reported.
While Soules previously had a reputation as a "good guy," his criminal history surfaced around the time he was being considered for season 19 of The Bachelor.
According to RadarOnline, Soules has a rather lengthy rap sheet. His most recent arrest occurred back in 2006, when he was charged and found guilty of operating a vehicle while intoxicated. He was fined more than $500 and sentenced to one year of probation.
While several of Soules' violations were speeding tickets, a few have involved illegal drinking and reckless driving. People reported Soules was charged three times in 2001 for possession of alcohol while underage. He was 19 at the time. According to New York magazine, Soules had alcoholic beverages in his truck at the time of the incident Monday evening, but it hasn't been determined whether the possession will factor into the charges.
This isn't the first time Soules reportedly left the scene of an accident. Back in March 2002, Soules was charged for the same offense, though it was ultimately reduced to defective brakes, according to RadarOnline.
It's unclear whether Soules will be charged with vehicular manslaughter in Mosher's death. Local law enforcement told TMZ it's "way too early to tell."