Here's what Trump accomplished in his first 100 days from a human rights perspective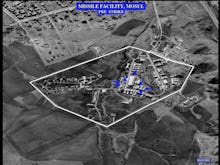 President Donald Trump's first 100 days in office are officially on the books — but don't expect much fanfare from the White House.
In an effort to steel himself against the incoming screeds from progressive media outlets who would seek to argue that he hasn't accomplished enough of his agenda in the weeks since his Jan. 20 inauguration, Trump tried to preemptively downplay the milestone on Twitter.
"No matter how much I accomplish during the ridiculous standard of the first 100 days, & it has been a lot (including S.C.), media will kill!" Trump wrote.
But in spite of what his critics might say, a lot has changed during the first chapter of the Trump administration — the only problem is, if you care about human rights, it's almost all bad news. Below is your one-stop-shop for the most noteworthy accomplishments of Trump's turbulent first 100 days in office.
The Muslim ban 
Just days after his January inauguration, Trump signed an executive order that temporarily banned travel from seven Muslim-majority nations.
The order — hastily drafted and sloppily executed — caused pandemonium at airports across the U.S., and was later blocked when the 9th Circuit court upheld a stay on the ban in February.
Anti-refugee policies
Trump's crackdown on immigration wasn't only felt by the seven nations targeted in the Muslim ban, however. A revised travel ban signed by Trump drastically shrank the number of refugees the U.S. would admit this fiscal year, from 110,000 to 50,000.
Since the U.S. has already resettled more than 37,000 refugees this fiscal year, the new cap would mean that less than 13,000 more refugees can be admitted.
"That's an immediate crisis for those people who are sitting in camps, who have no access to medical care, whose children can't go to school," Margaret Huang, executive director of Amnesty International, said during a phone call.
Skyrocketing number of civilian casualties during airstrike campaigns
"Bomb the shit out of them."
That's what Trump, then a Republican candidate, said of the Islamic State during a campaign rally in 2015. 
In his first 100 days of his presidency, Trump has made good on his promise, dramatically ramping up the number drone strikes against the terror group and sending the civilian death toll skyrocketing along with it.
Huang said that drone strikes the magnitude of those currently being conducted by the U.S. run the risk of creating "long-term destabilization in places where the United States is actually running the risk of exacerbating problems" with groups like ISIS.
"When drone strikes happen and kill an entire village, the communities around that village remember that." Huang said. "These are not actions that are making us safer, and so our national security concerns are actually going to get worse."
Standing Rock decision
After a hard-won victory in 2016 by Native American groups and environmental activists who protested the construction of the controversial Keystone XL oil pipeline, a newly-inaugurated Trump reversed the decision with the stroke of a pen.
Jeff Sessions' review of police reform
Jeff Sessions, Trump's appointed attorney general, ordered a review of all reform agreements with the nation's police forces in April, imperiling the tenuous progress made by police departments and the Department of Justice on reforming police practices.
Although police shot and killed 963 people in the U.S. in 2016 — 24% of whom were black — Sessions wrote in his memo announcing the review that it is "not the responsibility of the federal government to manage non-federal law enforcement agencies."
Repealed protections for trans students
In February, Trump rolled back former President Barack Obama's historic Title IX guidance, which ordered public schools to allow students to use bathrooms that aligned with their gender identity.
Then, in March, he rescinded an Obama-era executive order that enshrined protections for LGBTQ workers by requiring federal contractors to provide documentation of their policies.
Tried (and failed) to make huge cuts to Medicaid
The American Health Care Act — the Obamacare replacement health care bill backed by Trump and other Republican party leaders — would have rolled back the massive medicaid expansion that Obama's legislation included.
If passed, the AHCA would have eliminated health care coverage for 24 million Americans by the year 2024, according to some estimates.
Deportations/DACA 
March saw the beginning of what Trump himself called a "military operation" to deport undocumented immigrants from the U.S.
"We're getting gang members out, we're getting drug lords out, we're getting really bad dudes out of this country — and at a rate that nobody's ever seen before," Trump told a group of executives during a White House meeting.
Climate change
Since taking office, Trump has doubled down on his campaign promises to enact policies designed to bolster the oil and coal industries, despite the protestations of climate activists.
In addition to taking steps to slash funding for the Environmental Protection Agency and undoing an Obama-era rule against dumping coal mining waste into streams, Trump has also held fast to even more dangerous promises — like his refusal to uphold the Paris climate agreement.
According Huang, there's "no question" that the consequences of Trump's decisions on climate change are a human rights issue — and what's worse, they're potentially the only ones that can't be undone.
"[Climate change] has to be addressed in the context of human rights — as people's homes are being lost, as people's environments are changing, as they can no longer grow food or find water or any of the other things we need for survival," she said. "This is one of the most dire stakes for human rights."
But in spite of all of the seemingly bad news that has come out of the Trump administration during the first 100 days, Huang said that she saw signs of hope in people "taking to the streets and protesting, getting organized and active in politics in ways we haven't seen before."
"That is the silver lining in all of this," she said, "that there is more progressive action in this country than there has been for decades."